Styles and Types of Aluminium Gates
Aluminium gates are growing in popularity and it's easy to see why. The cost, durability, looks and functionality are now as good as – or even better than – more traditional metal or wooden gates.
At Abbey Gates and Metals, we've definitely seen an increase in demand for aluminium gates in recent years as many individuals and businesses, choose this very versatile metal over iron, steel or a combination with wood.
Whether you're looking for a modern, contemporary driveway gate or a traditional looking garden gate, aluminium gates offer a wide range of styles and designs to suit every taste.
We've noticed that not many people know too much about the properties and availability of aluminium gates or really what types and options are available on the market, so please read on and we'll identify the different types and styles of aluminium gates, the benefitsand the installation process.
Contact us if you have any queries about aluminium gates (or any other gates), and please ask us any questions you like. As Scotland's oldest and most trusted gate manufacturer and installer, we'll have the answers for you.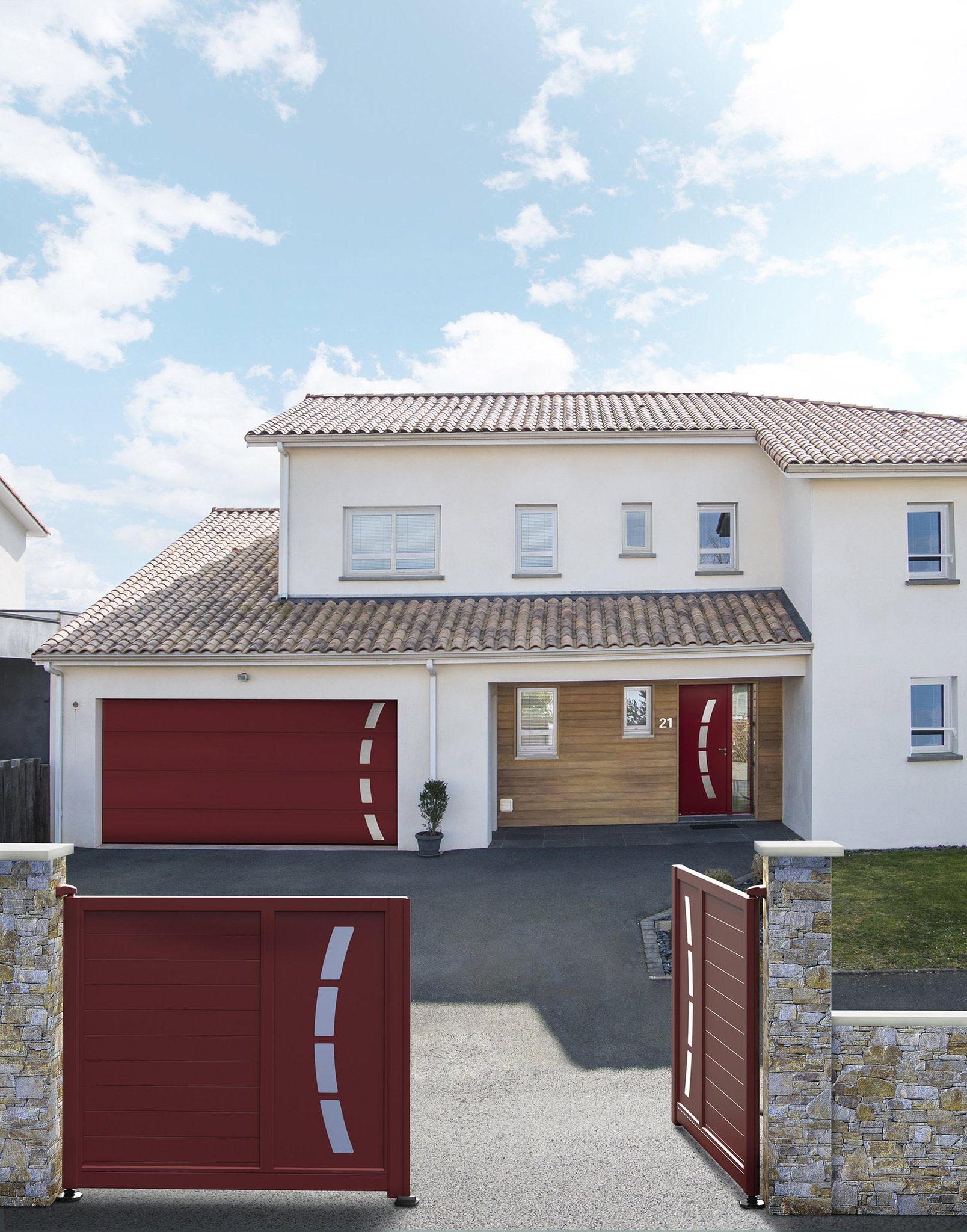 Types of Aluminium Gates
Aluminium gates are available in different types, each serving a specific purpose.
Driveway Gates
Driveway gates are the most popular type of aluminium gates. They are usually installed at the entrance of a domestic driveway to provide security and privacy, although businesses can often have them too. Aluminium driveway gates can be swing gates or sliding gates, depending on the available space and personal preference. They are available in various styles and designs, allowing homeowners and business create a secure and grand entrance to their property.
Pedestrian Gates
Pedestrian gates are designed for foot traffic and provide access to a property without the need to open the larger driveway gate. These gates are normallylocated at the front entrance, side entrance or garden entrance to a property. Aluminium pedestrian gates can be single or double gates (or larger) and can come in (or be espoke) a range of designs to match the overall style of the property. Using aluminium for garden gates means the gate is lighter to operate yet still durable.
Garden Gates
Garden gates are specifically designed to enclose and protect garden areas. These gates are usually smaller in size and are available in various styles including contemporary, traditional and decorative designs. Aluminium garden gates provide a secure and stylish entrance to your garden, enhancing its overall appeal. And due to the versatility of aluminium, there are endless deigns available as well as custom designs that can be created to fully enhance your garden.
Swing Gates
Swing gates are hinged at one side and swing open or closed like a door. They are a popular choice for both driveway and pedestrian gates. Aluminium swing gates are usually single or double gates and are available in a wide range of styles and designs to suit any architectural style, or they can be manufactured bespoke to fit specific criteria also.
Sliding Gates
Sliding gates operate by sliding horizontally along a track. They are an excellent choice for properties with limited space or steep driveways. Aluminium sliding gates offer smooth and quiet operation, ensuring convenient access to your property.Aluminium sliding gates are used in a variety of settings including residential driveways, gated housing communities, commercial/business properties, warehouses and industrial facilities. They are particularly useful in areas where space may be limited, as they do not require a large swinging arc for opening and closing like swing gates. Often, aluminium sliding gates are equipped with safety features to prevent accidents.
Barrier / Car Park Gates
Aluminium car park gates, also known as parking gates or barriers, are a type of access control system used in parking facilities, such as parking lots, garages and gated communities. These gates are designed to control the entry and exit of vehicles and provide security, organisation and oftentimes revenue collection for parking areas.
Our Styles of Aluminium Gates
Aluminium gates come in a variety of styles, each offering a unique designcharm. At Abbey Gates, we have a huge selection of designs to suit all tastes. In fact, we have organised them into ranges to make it easy for you to find your perfect gate or gates.
Contemporary Painted Range
The contemporary painted collection features modern, sleek designs with clean lines and smooth finishes. These gates are available in a range of vibrant colours, allowing homeowners to add a dash of colour (if they wish!) to their property. The contemporary painted collection offers a fresh and stylish look, perfect for modern homes.
Contemporary Woodgrain Range
This collection is designed to reproduce the look of natural wood. The gates feature woodgrain textures and finishes, providing the warmth and elegance of wood without all oof the maintenance requirements needed to look after wooden gates. The contemporary woodgrain collection offers a timeless and classic look. It's suitable for both modern and traditional homes and business properties.
Traditional Range
The traditional collection offers a range of aluminium gates that resemble traditional wrought iron gates. They have intricate designs, scrolls and decorative elements, adding a touch of elegance and sophistication. This collection is ideal for homeowners looking for a classic and timeless gate design.
Stainless Range
For a sleek design, the stainless collection features gates made from both stainless steel and aluminium. It offers a modern and contemporary look. The gates are known for their durability and resistance to corrosion, and are an excellent choice for coastal areas or properties exposed to extreme and harsh weather conditions. The collection combines sleek designs with wonderful functionality.
Lazer Range
For a unique gate, customised to your own designs, nothing comes close to the lazer collection.The beauty of these is in the laser-cut patterns and designs that are only limited by imagination. They givea huge visual impact and can be customised to include personalized patterns, names, logos or any other design. The lazer collection is perfect for homeowners who want to make a statement with their gate design and businesses who like to show their branding.
Lazer Glass Range
Our Lazer Glass collection combines the style of aluminium gates with the sophistication of glass infill panels. The gates have glass panels containing laser-cut patterns that create an extraordinaryvisual. The rangeoffers a contemporary and luxurious look,stands out from the crowdand is ideal for prestige properties.
Anodised Range
Anodising is an electrochemical process that enhances the durability and corrosion resistance of aluminium. Our anodised collection offers gates with a unique anodised finish, with a sleek and modern look. It's available in a range of colours and finishes.
AcordiaRange
Thisrange features gates with a combination of slats – both horizontal and vertical that creates a very modern and stylish look. These gates offer privacy while maintaining a contemporary look. This collection is a great choice for homeowners wanting a balance between functionality and design.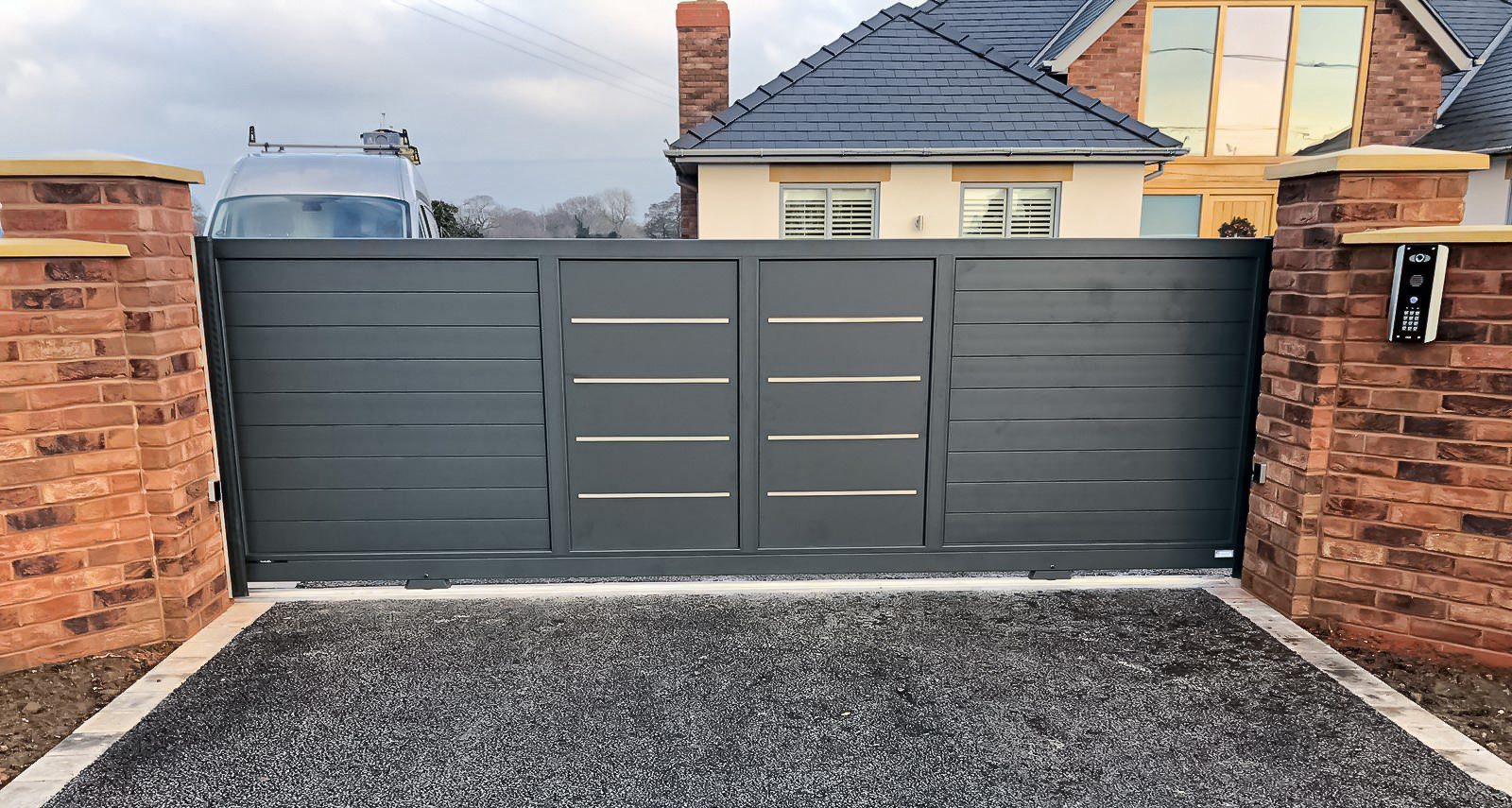 Revelation Range
Our revelation collection contains gates with intricate patterns and designs. The gates provide a contemporary and, often, artistic look – perfect for homeowners and businesses who know what they want. The collection offers a unique and eye-catching entrance to any property.
Confidence Range
The confidence rangeencompasses aluminium gates with bold lines and strong shapes. The gates create a real sense of security (because they are!) while maintaining a modern and stylish look. Thisrange is perfect for homeowners who look fordesign and functionality.
Night & Day Range
The night & day collection offers gates with integrated lighting (LEDs) to create a wonderful visual during the day and at night. The gates provide heightened visibility and security while adding a touch of class to your property. The night & day collection is ideal for homeowners who want to combine style and security.
Customisation Options
Colours and Finishes
Our aluminium gates are available in a wide range of colours and finishes to suit any style you can think of. The range of colours means your gates can complement your home or commercial propertyto enhance the overall look and feel. The most popular colour options in recent years have been white, black and bronze, but you have plenty of options to choose from!
Decoration
You can add decorative elements to your aluminium gate to personalise its design and make a unique set-up. Decorative elements include scrolls, spears, finials or custom designs of your own. We can also recommend decorative elements, as we have made thousands of gates for customers and have a huge library of styles and designs to choose from as well as having our own creative draughtspeople on hand to help you create that bespoke look
Address Transfers (Glass)
A popular option is to personalise your aluminium gate with your address using glass transfers. These transfers can display your house number, street, a custom design or any motif and adds a touch of elegance and uniqueness to your gate. Address glass transfers are available in various fonts, sizes, styles and colours.
Lighting
We can install LED lights on your gates, usually along the gate frame, infill panels or gate posts, creating a helpful and stunning look. LED lighting not only adds beauty to you aluminium gates, but also improves visibility and security at night or in poor weather.
Advantages of Aluminium Gates
Strength and Durability
Aluminium gates are known for their strength and durability. The metal can withstand harsh weather conditions including rain, wind and UV rays and doesn't corrode or deteriorate. Our aluminium gates are built to last and provide long-term security and protection for your property.
Weather Resistance
Aluminium is naturally resistant to rust and corrosion which makes it an ideal material for outdoor gates too. Our aluminium gates can withstand exposure to rain, snow and extreme temperatures without fading, warping, cracking etc. The weather resistance ensures that your gate will maintain its appearance and functionality over time.
Low Maintenance
Compared to other gate materials like iron or wood, aluminium gates require minimal maintenance and rarely need to be looked after. They don't need to be painted, stainedor sealed saving money, hassle and time ongoing. A simple cleaning routine and occasional inspection are normallyenough to keep your aluminium gates looking good and functioning well too.
Customisation and Personalisation
Aluminium gates offer a wide range of bespoke options meaning you can create a gate that reflects your personal style, complementing your home or business. You can choose the colour and design, adddecorative elements and personalised features such as logos, intricate motifs, numbers and letters. We can tailor your aluminium to exactly what you want.
Cost-Effective
Aluminium gates are hugely cost-effective compared to other gate materials like iron or stainless steel. The initial cost of an aluminium gate is typically lower and the long-term maintenance costs are negligible. Aluminium gates provide an excellent balance of quality, durabilityand affordability. Contact us today and ask for a free estimate/quote.
Why Choose Aluminium Gates Summary
Aluminium as a gate manufacturing metal offer a wide range of styles, designs and benefits that make it an excellent choice for residential and commercial properties' gates.
From contemporary painted gates to traditional wrought iron replicas there is an aluminium gate to suit every taste and style. With their durability, low maintenance requirements and customisation options, aluminium gates provide a high level of security, privacy and design appeal too. Whether you're looking for a grand entrance or a functional pedestrian gate, aluminium gates are a great option. Why wait? Explore the world of aluminium gates with us at Abbey Gates and choose the one that best suits your needs and style or speak to us about ideas.
One thing to note, when it comes to the manufacture, supply and installation of aluminium gates it's always recommended to hire a professional company like us for a seamless production and secure installation. Not all gate companies in Scotland are specialists in aluminium or really know what they are doing, despite being great iron or steel workers. So, it's best to trust genuine aluminium gate firms, such as Abbey Gates. By ensuring you employ a worthwhile company for proper installation and regular maintenance, you can enjoy the benefits of your aluminium gate for years to come.
Whether you're looking to enhance the security of your property, add a touch of class, keep out unwanted visitors or make a style statement with your entrance, we urge you to consider the benefits, versatility and beauty of aluminium gates.
Contact us to find out more about our wide range of aluminium gates and find the perfect one for your property.