Aluminium Driveway Gates
Electric Driveway & Garden Gates
Not many people know the benefits of aluminium gates – did you know they are stylish, durable, lightweight, rust-free, and cost-effective?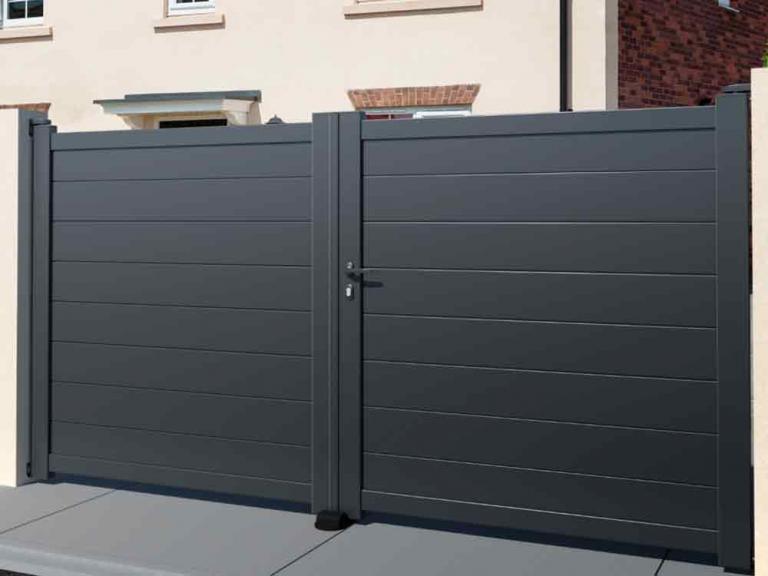 Installing a gate on your property is one of the most effective home improvements to make as a homeowner. There are many companies that manufacture ready-made gates, making it a quick process for homeowners to select and install one. The problem many people face is knowing what to choose.
There are many different types of gates. And those gates come in a variety of materials, such as metals and wood. Many homeowners may not know where to start with choosing what type.
Find out why you should choose an aluminium gate for your home.
What Are Aluminium Gates?
Aluminium is a type of metal that manufacturers can use to make many gates. Usually, they are barrier between the driveway or carpark and the street or road.
Gates protect your home or business by keeping out intruders. They also protect your property from the elements and prevent damage to the structure. These gates are also placed for aesthetic purposes because they blend in with different types of homes.
Why Ready-Made Gates Are Awesome
Ready-made gates can be a cost-effective way to add architectural features to your home. You don't need an architect or engineer to design them. You can also customise them according to your needs.
Are you interested in learning more about aluminium gates prices? Contact Scotland's number 1 aluminium gate manufacturer today and we'll help you with picking the best option for your property.
Aluminium Gates For Any Purpose

There are many different types of gates to choose from. A few of the most popular types include:
Aluminium Driveway Gates
A driveway gate is a type of gate that is typically used as a barrier between a driveway and the road. The gate can be wood or metal, with the latter being more common.
A driveway gate is a great way to keep your home safe from intruders and unwanted visitors. They are easy to install and are used for both residential and commercial properties.
Aluminium Pedestrian Gates
Pedestrian gates allow pedestrians to enter or exit the premises of a building or property. They have an opening in the middle and are made out of metal, wood, or glass.
The opening is manually operated by someone who is inside the building or property. It can also have sensors on the gate itself to open automatically. Someone remote may operate it at another location using a remote control device.
Aluminium Garden Gates
A garden gate is a barrier that blocks off the entrance to a garden. A gate is usually made of wood, metal, or brick and it can be either fixed or moveable. The term "garden" refers to the area enclosed in the barrier.
Aluminium Gate Benefits
So, what are the benefits of having your gate made out of aluminium? The following are just a few:
Aluminium Gates are Strong and Durable
If your gate is strong and durable, it will be able to withstand the test of time and weather. A strong and durable material, such as aluminium, can last for decades without any signs of wear, tear, or breakage. It has a high resistance to water, heat, cold, and wind.
Low Maintenance Gates

Low maintenance materials are important for property owners. They are a low-cost, high-quality solution to make a property gate that will not only last but also look good. Aluminium is very low maintenance!
Gates that are Modern and Elegant
Modern and elegant material makes a property gate more appealing than it already is. It can also create that serene feeling that people want when they enter their home or business. Many aluminium styles are modern and elegant.
Weather-Resistant Aluminium

With the ever-changing climate around us, having a property gate that is weather-resistant is a must. Aluminium gates are safe to use in all conditions. This means it will be safe for your loved ones to come and go without worrying about being caught in an accident.
Differences Between Aluminium vs. Iron Gates
There are many factors to consider when deciding which kind of gate to use for your driveway. For instance, there is a difference in the cost and installation process between aluminium and iron gates.
Iron gates are more popular than aluminium gates because they are what everyone is used to using. They have a higher weight so they can resist the weight of snow, rain, and wind better.
Aluminium gates are lighter and cheaper to install. They also have a lower noise level when compared to iron gates.
Pros and Cons of Aluminium Gates
Aluminium driveway gates are a great investment. You install them on a driveway or at the entrance of your property, giving you security and privacy.
The pros of using an aluminium driveway gate include:
It is easy to install
It is lightweight and durable
It does not rust easily
The gates are highly customisable and come in various sizes, colours, and designs
The cons of using an aluminium driveway gate include:
The aluminium can be scratched easily by sharp objects like keys, nails, or screws
Aluminium gates are not recommended for areas where people walk, like sidewalks
Get New Gate Installation in Scotland Today
This article discusses the many pros of buying ready-made gates. If you are ready to start looking at aluminium driveway gates, you're in the right place!
Contact Us About Aluminium Gates
To get in touch about our gates, or to find out more about what we do and how we do it, please get in touch. As one of the UK's leading aluminium gate manufacturers, Abbey Gates is ready to assist you with your needs. Contact us today!
By Telephone:
01294 835294 or
 07799 895814
By Email:
info@abbeygates.co.uk