Abbey Gates supplies high-quality, custom-made safety handrails and guardrails for all areas in, and surrounding Glasgow, Inverclyde and Ayrshire, Scotland. Whether you require safety handrails to be attached to steps or placed around certain areas of your garden, we can provide you with a stylish safety handrail. The high demand for safety handrails & guardrails is due to Scotland's reputation for bad weather, which can be anything from high winds, rain or snow.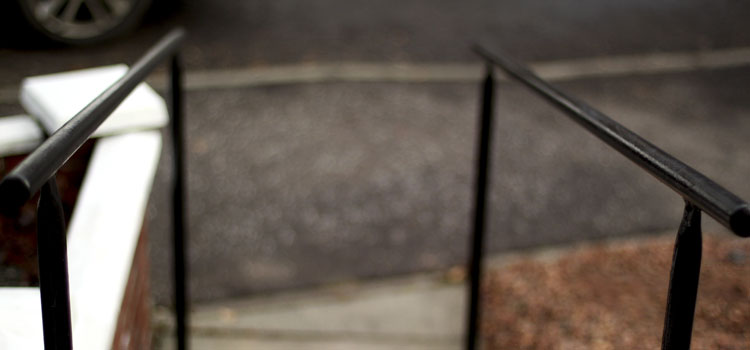 Reasons for having safety handrails & guardrails fitted
To keep you stable during high winds, heavy rains, icy, snowy or sleet-covered grounds

If you own a centre such as a care home for the elderly, a hospital or a rehabilitation unit, safety handrails & guardrails are ideal to keep your patients safe when walking about your grounds
To increase your house value and provide added style to your home and garden
If you have a new walkway or staircase fitted inside or outside your home
Why choose safety handrails & guardrails from Abbey gates?
Our gates are handcrafted from high-quality metal
Our handrails can be produced in a variety of designs and finishes, allowing them to look "at home", anywhere from your front door to your garden path.
We offer a galvanizing and weatherproof paint finish to eliminate damage by weathering. This means the handrail/guardrail will always be smooth
We have a range of designs for you to choose from in our catalogue
We welcome your bespoke, custom designs
We have efficient service and offer a free call-out to your premises very quickly
For safety handrails and guardrails at work premises, as a general rule, any unprotected edge of a walkway platform, staircase or other raised area from which a person may fall more than 0.5 metres, must be fitted with a guardrail.  Abbey Metal's handrails & guardrails are designed to provide safety and give assurance for users of staircases and walkways. We supply handrails not only to complement our staircases, platform and other similar structures.