Driveway Gates In Stirlingshire
Abbey Gates has provided an expert service designing, making, and installing electric gates, driveway gates and fencing throughout Stirlingshire for over two decades.
Our team specialise in creating the exact gate you have in mind for your property. We work with domestic and commercial customers in Stirlingshire to provide security, health, safety, and privacy throughout the area.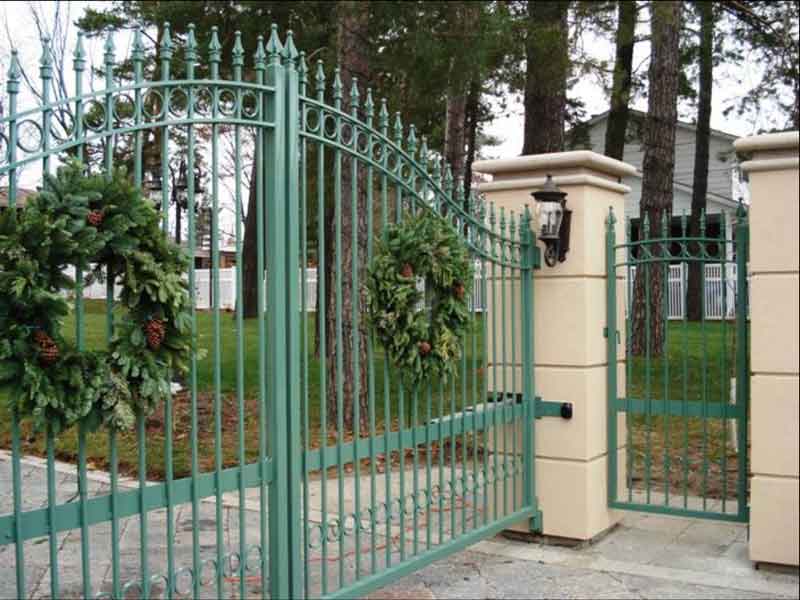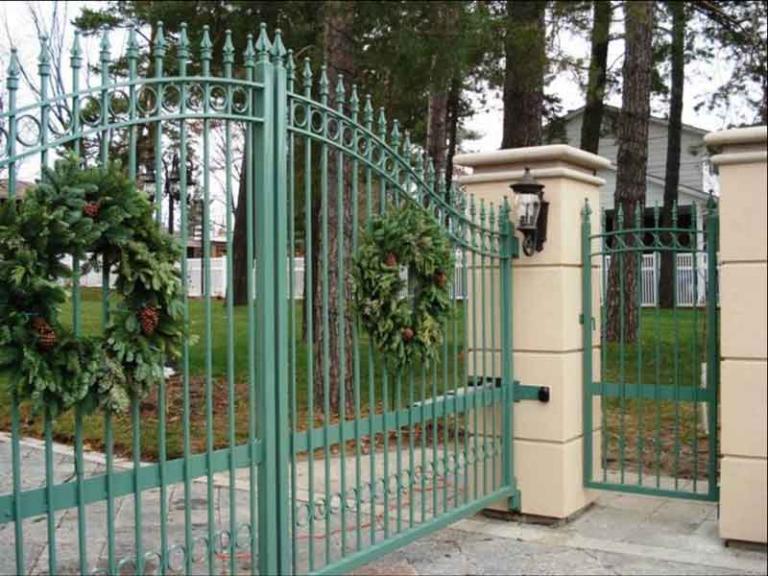 Can I Have Electric Driveway Gates?
Automatic gates offer an extra layer of security for domestic and commercial properties. Many people in rural Stirlingshire and Stirling town opt for the security and ease of an automatic gate.
For homeowners with driveways, electric gates allow you to close and open your gate easily. This means you can keep it securely closed and only allow yourself and others with your permission to enter. 
Our gates have the option of an intercom or buzzer so that you can admit people to your home easily – the perfect security solution for your home and garden.
This option comes in a sliding gate or inward moving or swing gate range. Sliding gates can be useful for saving space and look very attractive. They are also ideal if you have a sloped driveway that cannot accommodate an inwards swinging gate.
We also design and install composite gates with wooden privacy fronts for additional privacy and security. These are available in a wide range of colours and styles and make it possible to completely block anyone from seeing inside your property through the gate. And, of course, we can offer real wood gates too!
How are Automated Gates Made and Installed?
One of our engineers or designers will visit your home to measure the gate or railing needed. They will also discuss your needs and provide options for your gate. 
Once you have approved the design, the workshop will make your gate to order. Our team will install it at a time convenient to you. An electrician will also attend to supply power and any sensors and install your intercom if you want one.
You will have several options regarding how to operate your gate. Intercoms are available with or without codes, video, voice, ID card authorisation and key fobs. We can also install an exit sensor, so you don't need to let anyone out of the property.
What Type of Electric Gate is Best for Homes?
The reason for automatic gates is usually to allow people to open and close a large gate or gain access without having to get out of a car. The gate you choose to do this will depend on what your priorities are regarding security and privacy. 
Metal Gates in Stirlingshire
Scroll Gates
For a traditional look, metal scroll gates are ideal. Many domestic or business properties in Stirlingshire opt for these to give a distinguished look to their building. They have a smooth top with a design to look aesthetically pleasing and are perfect for traditional houses. They provide some security but are not considered as secure as palisade gates. 
Palisade Gates
These are gates used for security, but that doesn't mean they don't look good.
Palisade gates range from steel palisade gates to fencing, mostly used for industrial properties. These are available in a range of colours and with anti-climb paint. It is highly robust, and the sharp top edges provide enhanced security.
Wrought iron palisade gates and fencing are very different to steel. These gates are very decorative and offer great protection. It is highly decorative and incorporates scroll gate features but sharp points on the top to provide security.
Composite Gates Stirlingshire
These gates are made of wood and metal, often aluminium. There are several reasons to choose composite gates. Firstly, they have front wood panels, meaning no one can see inside the property through the gates.
They are also very secure and have the additional option of palisade tops. Composite is also cost-effective.
As wood is cheaper than metal, you can get more gates for your money when installing a composite gate. This type of gate is popular throughout Stirlingshire in towns and rural properties. 
Types of Electric Gates We Install in Stirlingshire
Areas We Serve
We have undertaken work across Stirlingshire including the following locations:
Stirling
Balloch
Drymen
Falkirk
Dunblane
Killearn
Aberfoyle
Callander
Blanefield
Bridge of Allan
Other Services Abbey Gates Offers in Stirlingshire:
Contact us
To get in touch about our services, or if you have any other related questions, please call us:
By Telephone:
01294 835294 or
 07799 895814
By Email:
info@abbeygates.co.uk