Driveway Gates, Railings & Fencing in South Ayrshire
Across South Ayrshire, electric gates are becoming more popular. Those looking for privacy and security without the hassle of manual gates will find automation is the answer.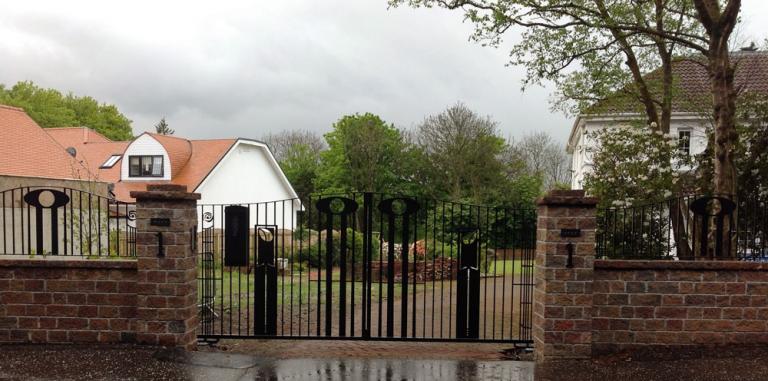 Abbey Gates provides an all-inclusive service from design to installation from our base in Glasgow. Our designers can provide a wide range of gates, including security, privacy and ornate styles. Because we make all our gates to order, we also create unique pieces in artistic styles on request.
Benefits of Electric Gates in South Ayrshire
Whether for your home or business, automatic gates provide a safe and secure entry to your property. They are easy to operate and allow you to keep your gate closed permanently unless you enter or leave.
Manual gates are heavy and inconvenient, and many people in South Ayrshire opt to change to electric gates. Automatic gates provide the convenience of self-opening gates with the security of a permanently locked entrance.
Electric Gate Operations
Automatic gates offer entry control with various options available. For domestic properties, key fobs are the norm. These are also known as clickers and have a push button to open or close your gate from your car or nearby the gate.
If you are at home, you will have an intercom with a receiver in the house to allow guests, delivery people and others into the house as you prefer.
For commercial electric gates, it is more common to have ID cards for employees and other authorised people. You will also use an intercom that can be operated from your office, eliminating the need for a gate guard or barrier.
Automation of Existing Gates
If you have an existing manual gate, it may be possible to automate this instead of creating a new gate. This is a great option for those with a valuable or traditional gate they want to keep. However, it is important to note that not all gates can be automated, and the engineer will need to assess this in person.
If your gate can be automated our electrician will fit an arm, sensor and intercom as well as a power supply to the gate.
Electric Gates For Your South Ayrshire Home
We have been designing and installing driveway gates in South Ayrshire for over 20 years. We know that each property we go to in South Ayrshire is unique and so are your needs. The process should be smooth, and your gate made and installed to your exact specifications.
Our engineer will visit your property to measure and assess your driveway or other entrance. They can provide some examples, or we can design a new gate for you if you have a particular style or material in mind.
Our workshop will take your design and create a gate to your specifications. The team will then come out and fit it into your property. For electric gates, our electrician will come and install the arm, sensors and intercoms and supply power to the gate if necessary.
Electric Gates For Businesses in South Ayrshire
With the rise of industry in South Ayrshire, many new and established businesses are looking for increased privacy and security from electric gates. We can provide gates made to measure in various styles and forms.
We have several options for businesses where electric gates must be elegant in style and functional for security. Steel powder-coated palisade gates have sharp tops and are vital to protect your property but are still distinguished in appearance.
Another option is composite gates which are metal in structure but have wooden fronts for a sleek appearance and offer more privacy as people cannot see the property through the gate.
Industrial properties in South Ayrshire often opt for steel palisade electric gates. These are strong and come with the option of anti-climb paint. They are ideal if you have valuable inventory in your yard or warehouse.
If you want additional privacy, you can opt for composite gates with wooden fronts with a palisade top for security.
We can also provide matching fencing and railings for your property. These can also be painted with anti-climb paint and come in various metals.
Which Electric Gates are Best?
The best type of electric gate depends on the balance you want between privacy, security and appearance.
Palisade Electric Gates
These automatic gates are the height of security. Strong bars and sharp tops make them ideal for high-value properties and workplaces.
However, this is not to say they cannot be beautiful. While most industrial properties opt for simple steel palisade gates, they can be made more decorative as needed.
Steel and wrought iron palisade gates with decorative designs and ornate pointed tops give the best of both worlds. They can be powder coated to give them a distinguished look and protect them from wear and weather damage long-term.
Scroll Garden Gates
Highly decorative scroll gates include artistic curls and designs. They are usually topped with flat bars or decorative artwork. Scroll garden gates are often used in gardens and secondary entrances in South Ayrshire properties. They provide some security and are most useful for entry control on your property.
Composite Gates
There are several reasons to choose a composite gate, and they are growing in popularity in South Ayrshire and throughout Scotland.
Composite gates are usually made with an aluminium frame and wooden or composite material on the front. This allows flexibility on colour and provides privacy as you cannot see through the gate into the property. They also make great automatic gates as they are very light and require less power to open and close.
Areas We Serve In South Ayrshire
We operate across the whole of South Ayrshire including:

Ayr
Prestwick
Troon
Girvan
Maybole
Turnberry
Other Services Abbey Gates Offers in South Ayrshire:
Contact us
To get in touch about our services, or if you have any other related questions, please call us:
By Telephone:
01294 835294 or
 07799 895814
By Email:
info@abbeygates.co.uk