Driveway Gates Motherwell

Abbey Gates is a premier provider of residential electric gates throughout the West of Scotland. We supply and install driveway gates, electric gates, railings and fences, and even composite gates. We would be more than happy to help you with your gate installation in Motherwell.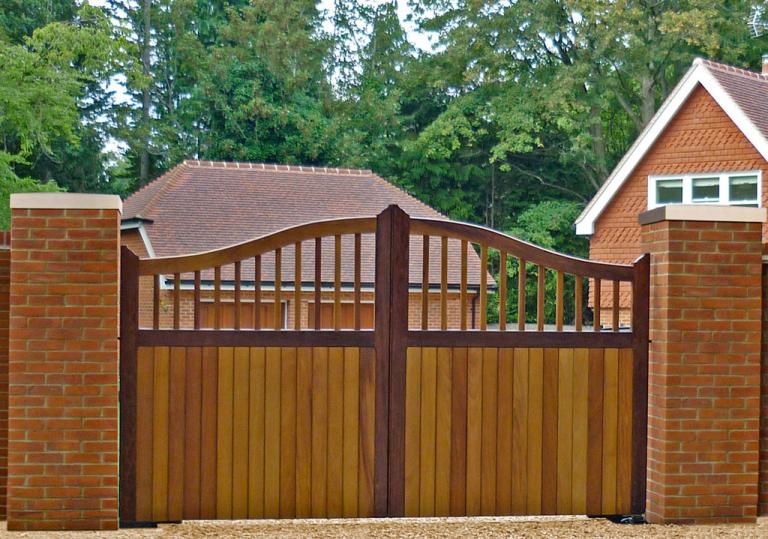 Automatic Gates in Motherwell
Wood is a classic material that seems to be timeless. It works well with nearly any style of home and in any town in Scotland. When you choose wood, you get:
a natural look
an elegant aesthetic
will withstand the test of time.
Wood is one of our more popular options for residential electric gates. It works well for both small and large projects; for both highly detailed and simple looks.
Aluminium Electric Gates in Motherwell
If wood isn't your style, have you ever considered aluminium? It has been our experience that many people do not know the benefits of aluminium for electric gates. Some examples are:
cost-effective
corrosion resistant
lightweight
low maintenance
weather resistant
durable.
Do not believe that aluminium cannot be stylish. It can be. In fact, this is a material that offers a very modern look that some people appreciate much more than wood or composite materials. This material is lightweight but strong, ideal for electric gates.
Garden Gates in Motherwell
A garden gate is a perfect solution for adding a measure of security without completely closing in the garden and cutting off all your views. We offer a wide variety of styles suitable for most properties.
A bespoke garden gate increases privacy and keeps both children and pets safe. It also offers a great first impression to your visitors. If you would like to know more, contact Abbey Gates.
Driveway Gates in Motherwell
More and more Motherwell homeowners are electing to secure their properties with driveway gates. Indeed, driveway gates are at the heart of what we do. A well-designed electric gate that you can keep closed at all times makes your property more secure and keeps your family safer.
Driveway gates can be designed as wood, composite, iron, or aluminium structures. We can design them to be manually or automatically operated. Our bespoke solutions make it possible for you to get that perfect electric gate system you have always dreamed of.
Electric Gates in Motherwell
Add electricity and a motor to a set of gates, and you bring automation into the mix. The nice thing about electric gates is that you can open and close them with remote control. No need to step out of the car when arriving or going out.
Automatic, electric gates can open on hinges (known as articulated gates) or slide to one side or the other. Furthermore, all our electric gates are powered by electromechanical or hydraulic motors. They are more than capable of getting the job done.
At Abbey Gates, gates are what we do best. We design, build and install all sorts of electric gates in Motherwell, right to your unique specifications. In addition to electric gates, take a moment to check out our:
Railings and fences
Paints and coatings
Security bars and grills
Safety handrails and guardrails
Areas We Serve Near Motherwell In North Lanarkshire
We have undertaken work across North Lanarkshire including the following locations:
Cumbernauld
Coatbridge
Airdrie
Motherwell
Wishaw
Bellshill
Kilsyth
Shotts
Chapelhall
Moodiesburn
Newmains
Stepps
Other Services Abbey Gates Offers in East Dunbartonshire:
Contact us
To get in touch about our services, or if you have any other related questions, please call us:
By Telephone:
01294 835294 or
 07799 895814
By Email:
info@abbeygates.co.uk