Automatic Driveway Gates in Coatbridge
For more than 40 years, we have been designing and installing driveway gates throughout the greater Glasgow region. Our service area includes Coatbridge. If you are in Coatbridge and have been thinking about installing gates in the driveway, around the garden or both, we can help.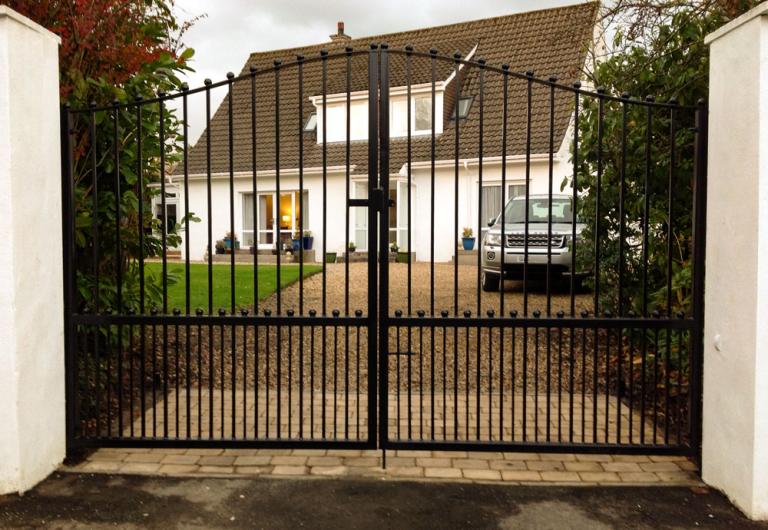 Our gates come in a variety of styles and materials. Allow us to custom design your driveway or garden gates using wood, metal, or composites. In the metal department, we offer aluminium, steel, and wrought iron. You can also combine multiple materials in a single design.
Electric Gates in Coatbridge
One of our most popular designs right now is the automatic driveway gate. Automation makes your driveway gates in Coatbridge more functional by relieving you of the duty of having to open and close them manually. With just a touch of a button, your gates open and close.
The three main mechanisms of driveway gates are:
Manual Gates – Swing, slider, double swing or single swing. Whatever your needs, we custom-make your gates to your specifications.
Articulated Gates – Articulated gates are hinged gates that rely on electric motors and hydraulic arms for operation. They swing open and closed like doors.
Sliding Gates – A sliding gate system utilises a single gate that slides out of the way. It can move in either direction, pulled by a chain or belt along a track. An electromechanical motor does the work.
Automatic gates are more convenient thanks to their remote operation. And just like manually operated gates, automated gates secure your property against intruders.

Wood Electric Gates in Coatbridge
Though many of the gates we install in Coatbridge are made of aluminium and composites, there are still plenty of customers who prefer the look of natural wood. A solid wood gate is simultaneously beautiful and imposing. No other material offers quite the same aesthetic.
Our wood gates in Coatbridge are designed with security in mind. We don't cut corners or take shortcuts. In fact, Abbey Gates designers and builders take immense pride in their craftsmanship. A wood gate installation will leave you with a quality security barrier as well as a beautiful work of art.
Composite Electric Gates in Coatbridge
Not everyone is into natural wood. Many of our customers are looking for a more modern material, which explains why we are installing more composite electric gates in Coatbridge as time goes by.
Composite materials are just as durable and long-lasting as wood. They can also be equally beautiful. Whether you choose composites alone or combine them with wood and metals, your finished gate system will be something you can be proud of.
Why You Should Install Gates in Coatbridge
Not every Coatbridge home has electric gates protecting the driveway or garden. So why should you have them installed on your property? Here are just some of the reasons our customers have passed on to us:
Increased security against unwanted guests
Better containment of children and pets
Increased property value
Better property aesthetics.
In addition to driveway and garden gates, Abbey Gates offers additional industrial, fabricating, and welding services throughout the region. If you would like to know what services are available in Coatbridge, don't hesitate to contact us.
Areas We Serve In North Lanarkshire
We have undertaken work across North Lanarkshire including the following locations:
Cumbernauld
Coatbridge
Airdrie
Motherwell
Wishaw
Bellshill
Kilsyth
Shotts
Chapelhall
Moodiesburn
Newmains
Stepps
Other Services Abbey Gates Offers in East Dunbartonshire:
Contact us
To get in touch about our services, or if you have any other related questions, please call us:
By Telephone:
01294 835294 or
 07799 895814
By Email:
info@abbeygates.co.uk