Electric, Automated Driveway Gates In East Dunbartonshire
Abbey Gates has been installing electric gates, fencing and railings throughout East Dunbartonshire for over 20 years.
Our expertise and efficient service mean you are in good hands whether you are looking for additional security, health and safety or a new look for your property. 
Our design and installation team can create the ideal automatic gates for homes, commercial properties, schools and universities. We design every part of the gates or railings to your specification with expert input from our designers. 
Each of our gates is bespoke and made to measure. We can offer composite gates, aluminium gates, as well as more traditional security and safety fences, gates and railings.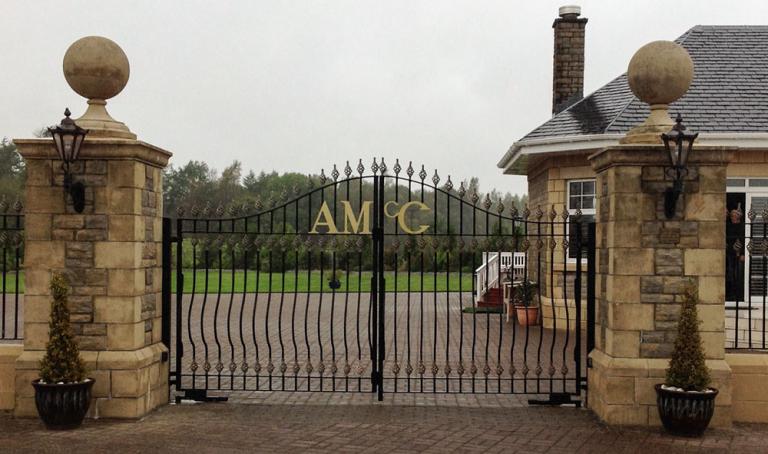 Why Choose Electric Gates? 
There are several advantages to choosing electric gates for your property. 
Security 
Many want extra security for their home or commercial property without needing a staffed gate or the hassle of manual opening. Gate access control offers this control over who can enter your property without inconvenience to you, your family or your staff.
Our electric gates offer several options for opening easily. You can use a key fob, code, ID cards, buzzer entry and call button. Many businesses and homes in East Dunbartonshire use electric gates, especially for larger or more rural properties. 
Privacy
It is not just security we provide with our electric gates. It is privacy too. Composite gates with wooden fronts block people outside from seeing inside your home, garden or commercial property. In recent years, residential electric gates have risen as people look to improve their comfort and privacy at home.
I Want an Electric Gate Installer Near Me
We cover all East Dunbartonshire and surrounding areas from our base in Glasgow. One of our engineers will visit your home or facility and measure, consult, and draft your gate design. 
Every stage of our production and installation is bespoke and tailored to your needs.
Automatic gates come in many shapes and sizes to meet your requirements.
As a local company, you can be sure that you won't be referred to another group. We will handle everything from the measurement to production and installation. 
How much does an electric gate cost in East Dunbartonshire?
The cost of an electric gate varies enormously depending on:
Size of the area and height of the gate
Composition of the gate, steel, wood, aluminium etc.
Level of Automation, intercoms, ID card, key fob
Installation of electricity
You will pay around £2,500 to £3000 for a small, simple gate for a domestic property, but larger, more complex gates are closer to £6,000 or more.
It is worth opting for good quality gates and installation as cheap electric gates can fail and leave you with a high repair bill.
For a quote tailored to your electric gate needs, please get in touch with us today, and an engineer will visit your property for measurements and an estimate.
Attractive  – because we can easily tailor your gate to your requirements, we can be as creative as we like with your gates. Whatever your style, whether classic, contemporary or completely bespoke, we create beautiful gates.
Low maintenance – Compared to iron or wood, composite driveway gates require very little maintenance. While they still look as attractive as wood, they won't rot or degrade. They don't need treated like wood or have any coatings that metal gates tend to have.
More privacy and security – Composite gates generally don't have gaps between the bars like traditional iron gates or wooden gates, so provide more privacy and security.
A long-lasting solution – incredibly strong and durable, composite gates usually consist of a metal frame with a composite or mixture of wood fibre and durable plastics.
Great value – composite gates can often be less expensive that fully wood or metal gates due to the price of raw materials. In addition, they last longer, giving better value for money all-round.
Types of Electric Gates We Install in East Dunbartonshire 
Composite Electrical Gates
Composite gates are growing ever more popular with those seeking privacy and security for their property in Dunbartonshire. These are electric gates that are metal in construction for security with wooden fronts to offer privacy as well. 
 Wooden fronted gates are available in various colours and styles to suit the property and neighbourhood. Add to this the fact that no one can see through them, and they make the ideal gates for driveways. 
Having automatic composite gates also means keeping them closed as much as you want. Opening is easy and secure. You can use a key fob from your car and open it from inside the house using an intercom.
Sliding Electric Gates
There are several options for how your gate opens. If your gate is on a pavement or road in East Dunbartonshire, it must either open inwards or be a sliding gate. 
 For some people, a gate opening inwards isn't an option, so a sliding gate makes an excellent alternative. This saves space, and the effect is pleasing to the eye. 
Commercial Electric Gates
Security is important to any business in both isolated and busy areas of East Dunbartonshire. We can install a range of options in automated gates for your commercial property. 
This includes a combined security fencing and automated entry gate package. These can be made to measure and matched to keep your property secure but look smart as well. 
Automation of Existing Gates
If you have a gate you want to keep, it is possible to automate an existing gate. Many rural and urban properties in East Dunbartonshire have gates suitable for automation. 
Automatic gates make life much easier for those with driveways gates. Chances are you rarely close manual gates to a property if you use it regularly. If you do, getting in and out of your car or closing it manually when walking out is likely inconvenient. 
Automation can include the opening and closing options of your preference, including intercoms, exit sensors, ID cards and key fobs.
Why Choose Abbeygates for driveway gates & fencing?
We are a trusted, Glasgow-based company
We offer free consultation visits to your home to give you advice and quotes
We carefully design a range of different driveway gates to suit your specifications
Our experienced and highly qualified team have over 35 years of experience in manufacturing and installing metal swinging and sliding driveway gates
We specialise in driveway gate automation systems which can be added to your new or existing gate
We can help you create your bespoke designs and have a large catalogue of driveway gate designs to choose from
We offer a galvanizing service to give a high-quality, lasting finish that ensures your driveway gates are not prone to weathering
We do not deal with subcontractors as all our work is done only by our team
Our gates come with a 3-year guarantee
Automatic Electric Gates
We can supply fully automatic gates, cantilever or sliding gates, automatic swinging gates and roller shutter doors.
Abbey Gates can design and provide the automatic gate that meets your needs. An Automatic gate for industrial, commercial and domestic applications can be custom-made and installed throughout Scotland.
Automatic gates are becoming more common throughout Scotland. Electric gate openers are now available for all kinds of gates, from sliding gates to swing gates. Entrances to our homes have become increasingly more important. This is due to a need for security, safety, controlled access, and to enhance the appearance and value of our homes
Areas We Serve
We have undertaken work across East Dunbartonshire including the following locations:
Bearsden
Milngavie
Bishopbriggs
Kirkintilloch
Lennoxtown
Torrance
Other Services Abbey Gates Offers in East Dunbartonshire:
Contact us
To get in touch about our services, or if you have any other related questions, please call us:
By Telephone:
01294 835294 or
 07799 895814
By Email:
info@abbeygates.co.uk