Driveway Gates, Railings & Fencing in Edinburgh
Protecting your home or business is vital to your safety and security. An electric gate from Abbey Gates offers an effective barrier without interrupting operations and customers. Our local workshop can provide custom-designed gates and railings to suit your property both in security and aesthetically.
You may have specific security needs in mind for your home or company or maybe just want to explore your options. Abbey Gates surveyors can visit the property and discuss your needs and options for installing electric gates.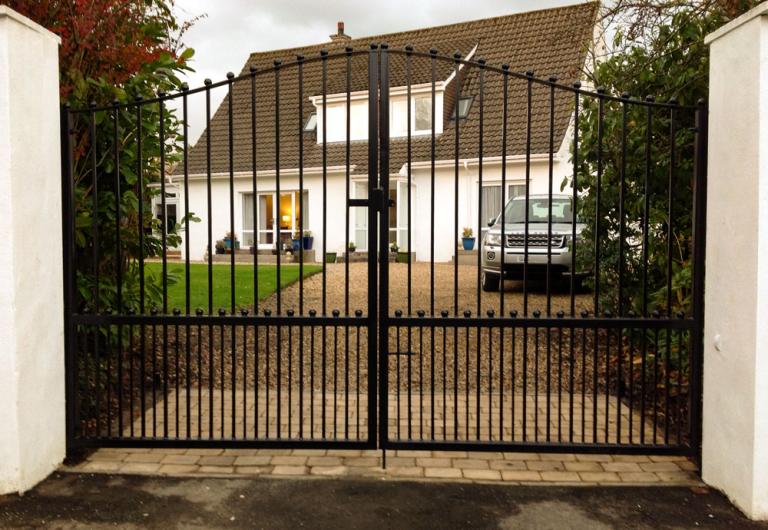 Why Choose an Electric Gate for Your Home or Business?
Appearance
Your outward look is important to your business and customers in several ways. Your commercial property should look safe, secure, and appealing and match your style and branding.
We can create a range of bespoke electric gates that meet your existing property's style and needs. The right first impression means a lot to your business and its clients.
Physical Barrier
Because electric gates are by default closed and only open when you want them to, they provide a protective barrier for your property. Manual gates only do this if you open and close them consistently. This is time-consuming and unreliable and restricts the size and weight of the gate you can use.
Preventing intruders from entering and committing crimes and damaging property in Edinburgh is easy with an electric gate. We can also add matching railings with additional protection such as anti-climb paint, barbed wire, rotor spikes and alarms.
More than this, an electric gate prevents illegal vehicles and pedestrians from trespassing. Electric gates provide an effective deterrent in areas where casual trespassing and parking are an issue.
Access Control
While anyone can open a manual gate, electric gates require permission through a key fob, ID card, code or being buzzed in. This improves your security and safety as you know exactly who is in your building or commercial property at all times.
In the case of larger gates, these can register vehicles coming in and out of your property. A high standard of control over access keeps your staff, inventory and building safe and secure.
Which Electric Gate is Best for Businesses?
There are several types of electric gates; choosing one will depend on your needs, property and cost. The best way to choose which gate you need is to contact our team at Abbey Gates, and our survey team will come to your property and make a full assessment.
You can look in our gallery or read below to give you an idea of the different types of electric gates available.
Palisade Gates
A versatile type of electric gate that provides high security and a distinguished look. There are two main kinds of palisade electric gates. The first is steel bars with pointed tops, often painted with anti-climb paint. They can also be topped with barbed wire, rotor spikes and alarms for added protection. Hospitals, industrial yards and warehouses usually use these gates. They are smart, simple and extremely strong.
The second kind of palisade gate is an ornate bar with decorative pointed tops. These can be painted or powder coated and are conventionally steel or iron in construction. This is ideal for properties that need to be secure but want to appear elegant and distinguished.
Vertical and Scroll Gates
Vertical gates are different from palisades in that they are made in panels or blocks. They are easy to install and cost-effective for buildings looking for medium-level security and barriers against trespassing.
Scroll gates are another lower security option. They are mostly decorative but boast an impressive appearance. These are useful for directing foot traffic and guiding people away from areas you don't want them to walk or drive through.
Traditional Gates
Edinburgh is a beautiful and historic city with buildings dating back hundreds of years. This rich history means that there are restrictions on building and appearance.
Gates are not ordinarily subject to planning permission, although our surveyor can advise you on this. However, if you have a commercial building in a historic area, you may need to keep your gates in keeping with the area of Edinburgh.
Our craftsmen can design a traditional gate from appropriate materials and in the right style. Traditional wrought iron or powder-coated steel gates can be used widely throughout Edinburgh.
Composite Electric Gates
In a busy city like Edinburgh, privacy can be an issue for businesses. You may want to stop people from seeing inside the property to protect your staff or clients' privacy. If your inventory or valuable assets are visible from the street, it is also a security risk.
Composite gates are made of both metal structures and wooden front panels. This means you have a robust, lightweight automatic gate that will stop anyone from seeing through the gate into your property. They can also be augmented with sharp security tops for added protection.
Automatic Sliding and Bifold Gates
The quirky nature of properties in and around Edinburgh means you are restricted by slopes or walls and find a sliding or folding electric gate that suits your needs. Sliding and folding gates help you make the most of the space available. These gates slide to the side along a wall or railing, fold up, and then slide away.
Parks, Gardens and Public Areas in Edinburgh
Security is important in many public and private gardens and controlling access is essential to the revenue they generate. For these areas, automatic gates can provide several functions:
Keep unauthorized persons from accessing controlled areas
Prevent theft or trespassing
Reduce costs and administration in car parking areas
Ensure only ticketholders can access chargeable areas
Are Electric Gates Safe?
Concerns about health and safety are very important to businesses in Edinburgh. The good news is that a high-quality, well-installed electric gate has several safety features. All of our gates meet the safety standards regulations demand. Our installers are experienced, and our craftsmen are second to none. We provide the safe removal of unsafe gates and installations and replace them with high-quality gates. Features include sensors to detect vehicles or people in the way of a closing or opening gate and safety edging to prevent sharp edges and hazardous hinges.
Areas We Serve In Edinburgh
We operate across the whole of Edinburgh including:

New Town
Leith
Corstorphine
Gorgie
Dalry
Portobello
Bruntsfield
Morningside
South Queensferry.
Other Services Abbey Gates Offers in Edinburgh:
Contact us
To get in touch about our services, or if you have any other related questions, please call us:
By Telephone:
01294 835294 or
 07799 895814
By Email:
info@abbeygates.co.uk