Aluminium driveway gates are an excellent addition to any residential or commercial property. These gates not only provide security but also enhance the overall design and appeal of your home or business. But why should you get aluminium gates and how do they differ from traditional metals gates such as iron, steel or wood?What are the benefits of aluminium driveway gates? And, what do they cost compared to other gate options? Well, at Abbey Gates, we have decades of working with all kinds of materials for gates, and we have to say, aluminium has grown to become one of the best materials for gates, and its growth in recent years suggest it may well become the standard for gates in the future.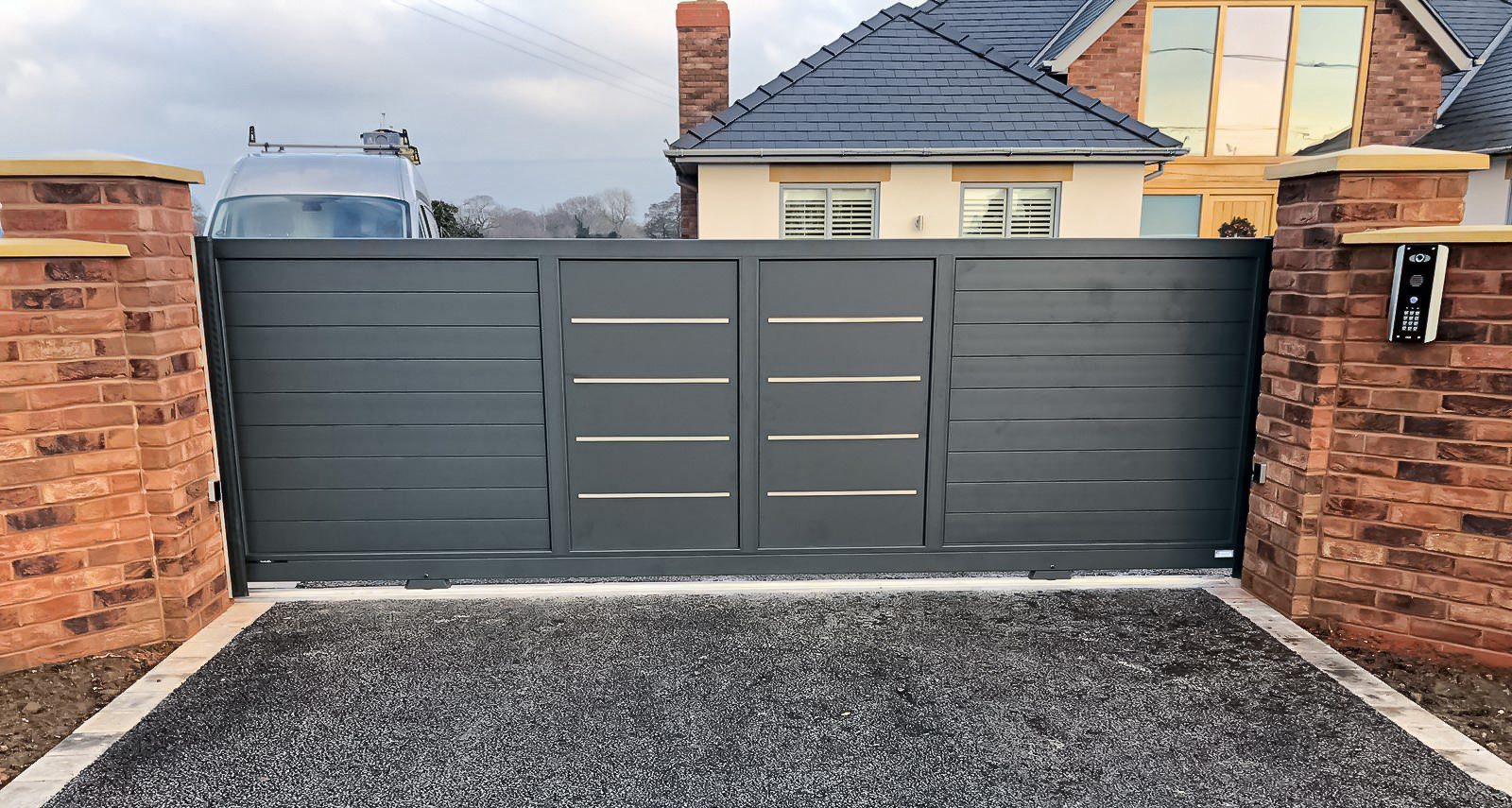 Advantages of Aluminium Driveway Gates
Aluminium driveway gates can offer numerous advantages over other materials like wrought iron, steel or wood. Here are some key benefits:
Durability and Low Maintenance
Aluminium is a highly durable material that is resistant to rust. Unlike other materials such as iron and steel, aluminium gates usually do not require regular maintenance like painting or staining, and they don't suffer from cracking or chipping. They are highly resistant to corrosion, chemicals and extreme weather conditions, which makes them a super-durable buy for the long-term.They can also easily cleaned, simply with soap and water. It's a very low maintenance metal and a wonderfullycost-effective option over the long term too.
Security and Privacy
One of the main reasons people install driveway gates is to enhance the security of their property. Aluminium driveway gates provide a sturdy and reliable barrier that deters potential intruders, offering peace of mind. Aluminium gates can be customized with various security features like keypad entry systems, intercoms, CCTV, specialist locks and automatic gate openers for added convenience and protection. Additionally, aluminium driveway gates also provide a high level of privacy, keeping unwanted visitors or prying eyes away from your home or business.
Style and Aesthetics
Aluminium driveway gates are available in a wide range of styles, designs and colours allowing you to choose the perfect gate that complements whatever thefunctional architecture and design aesthetics of your property are. Whether you prefer a classic spear point design or a sleek modern look, there are options to suit every taste.With traditional, modern or contemporary styling, aluminium is a highly customisable material and there is no end to the imaginative designs that can be created. In addition, the ability to customize the gate's properties including height, width and decorative elements ensures that aluminium driveway gates fitcan meet any unusual requirements or specifications when it comes to choosing exactly what you want your style. We have a huge range of styles and designs already for you to choose from.Or you can modify and already existing design or have a completely bespoke design – speak to us about a custom design for your gates, we'd be delighted to help.
Ease of Installation
Compared to other materials like wrought iron or steel, aluminium gates are very lightweight, making them a lot easier to install. The installation process is relatively straightforward, but naturally this depends on the size of the particular job (number of gates etc) and the particular specifications of the job. But most domestic installations can be completed in just a few hours, especially if it's by trusted tradespeople and competent installers such as Abbey Gates!
Ease of Operation
Because aluminium is a lightweight metal, manually opening and closing the gates far easier than traditional iron gates. This is especially beneficial for people with limited mobility or strength. We fit all our gates with high-quality hinges, rollers and/or automated systems – all of which ensure a smooth and effortless operation. If choosing automation for your gates, this is usually in the form of electric motors which move the gates and they come with remote controls to operate them. This allows you to open and close your gate with the touch of a button, from the comfort of your car or home also.
Cost and Cost Effectiveness
Compared to other gate materials like wrought iron or wood, aluminium gates are a very cost-effective option. The generally cost less to make so are financially a great choice. In addition, the metal is often cheaper, so this can lower the overall purchase cost. Additionally, aluminium gates are lightweight, reducing the strain on any gate motors and opening mechanisms, resulting in lower energy consumption and are, therefore, cheaper to run. Maintenance costs are far lower as they need less attention over any period of time too.
Recyclable
Because they're made from aluminium and this can be recycled relatively easily compared to other materials, when it's time for new gates (hopefully 30 or 40 years down the line), your old gates can be recycled.
Customisation and Configuration
Aluminium driveway gates can be customised to match your specific preferences and requirements, and the spectrum of designs and styles is almost unlimited compared to traditional heavier metal gates.
Aluminium driveway gates can be powder-coated in a wide range of colours to match your property design and style. Whether you prefer a classic black gate or a custom colour that complements your surroundings, powder coating provides a very durable and very attractive finish.
We can customise your aluminium driveway gate with decorative elements such as finials, scrolls or ornamental patterns. These details add a touch of elegance and personality to your gate making it a standout feature of your property.
We can also customise thesecurity of your aluminium driveway gate with various features like keypad entry systems, intercoms, CCTV or automatic gate openers. These features not only provide convenience but also help ensure your safety and privacy.
If you have any particular customisation or configuration in mind, please get in touch. One of our specialised surveyors can help answer any questions you have on any functionality or specification.
The Perfect Gates for Your Home or Business
Aluminium driveway gates provide an excellent combination of security, durability, cost and design. Their low maintenance requirements and customisation options make them a popular choice among many peoplein Scotland. Becoming an ever-increasing good option, aluminium gates, including driveway, pedestrian and garden can enhance the security, privacy and "curb appeal" of your home or business property. So, why not explore the various styles and customization options available, or speak to us about a custom gate?