Electric Gates in South Lanarkshire
If you are looking for a locally based electric gate provider to install automatic gates to your domestic or commercial property in South Lanarkshire, we provide a full service throughout the area. More and more homes and businesses are looking for ease and security from automated gates.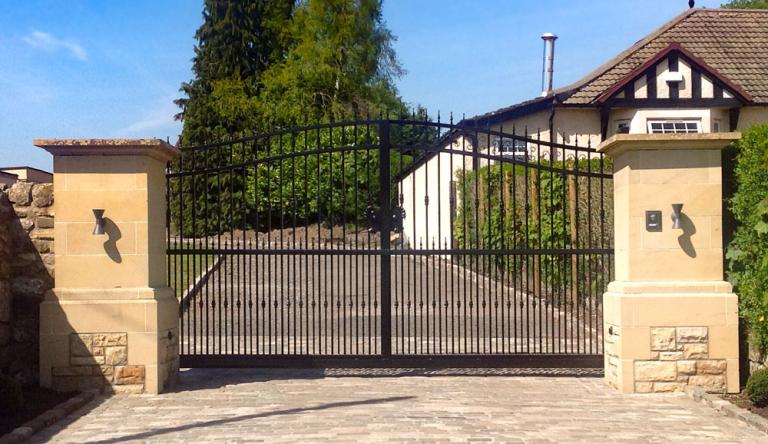 Why Get Electric Gates?
The reasons for electric gates are simple. They are easy to open and close and, therefore, more likely to be kept closed. This simple fact means they offer consistent privacy and security not provided by manual opening gates.
They are also permanently locked to anyone you don't want access. This allows you to keep your gate locked and let your household or employees enter and grant access to others using an intercom.
What Electric Gates are Best?
Your property and needs will determine which kind of electric gate is best for you.
Domestic Electric Gates in South Lanarkshire
With new developments across South Lanarkshire, many people want to upgrade their security and privacy in their new homes. Gates installed in new-build properties are often basic or nonexistent, and people often want to upgrade to electric gates. We can measure, design, manufacture and fit gates and matching railings to protect your property. These can be made bespoke to match the house and neighbourhood.
Bespoke electric gates are also ideal for traditional properties in South Lanarkshire. Because we make all the gates to order, there is no 'one size fits all'. We can also repair or automate existing gates. This involves adding an arm, intercom and sensors to an existing manual gate. It will also be necessary to provide power to the gate; our electrician can do this when the other parts are fitted.
Specialist Gates
Sliding and Bifold Gates
You may think that automatic gates aren't an option if you have a sloped driveway or limited space for a gate to open onto. This can happen because of the shape of your property or the road it opens onto.
A bifold or folding gate is ideal if space and opening are an issue. This means you don't need much space at the front or side of the entrance. Your gate simple folds up rather than opening outwards or inwards.
A sliding gate is suited to houses with space to the side, but you don't want the gate to open out or in. The effect is pleasing to the eye and keeps the gate from intruding onto highways or walkways.
Composite Gates South Lanarkshire
Composite gates are made of two or more different materials. This allows you to have the robust structure of a metal gate but the added privacy of wood. These are designed to stop anyone from seeing inside your property through the gate. They are highly secure and resistant to wear and tear from weather and use.
Commercial Gates South Lanarkshire
As an up-and-coming location for commercial and industrial properties, South Lanarkshire has significant demand for electric gates and security fencing.
Electric gates for commercial properties can serve a variety of purposes. Allowing easy access to employees, customers and deliveries without compromising your security is the highlight of this system. It eliminates the need for gate security employees and keeps your property safe.
For traditional commercial properties where it is important to look distinguished but still keep secure, we can design secure palisade gates in steel or iron powder coated for an elegant look. These gates are very solid and have pointed tops for security. We can also provide composite gates with steel pointed tops for privacy and added security.
Palisade Gates
The simplest and most secure electric gates are palisade gates. These are shaped to be difficult to climb and sharp at the top. This is the fencing used for secure sites such as railways, airports, and prisons throughout South Lanarkshire.
These are ideal if you have an industrial yard where valuable goods or machinery are stored. Electric gates are often paired with matching palisade fencing. These are usually made of galvanized steel for strength and cost-effectiveness. We can also provide them with anti-climb paint.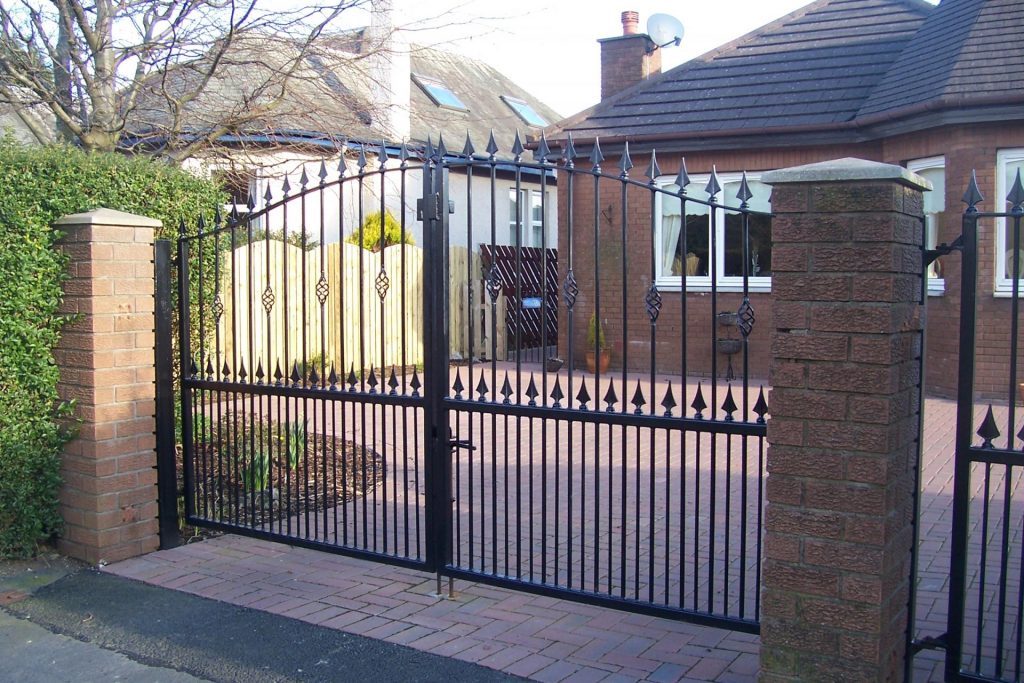 Electric Gate Installation South Lanarkshire
Abbey Gates prides itself on being a local company that measure, design, build and fit all our gates from start to finish. We will send our surveyor to your property in South Lanarkshire to measure and design the gate alongside you. It is important to us that you get the gate you want. Our engineer will guide you through all the possibilities and options for your electric gate.
Once you are happy with the design, our workshop will create your gates. Upon completion, the gates will be installed along with power where needed. Our electrician will wire in the intercom and the receiver in your home. You will also receive your preferred choice of access as key fobs, ID cards or codes.
The service is as important as the final product, and we pride ourselves on designing your gate your way. To get started on the electric gate you need, just contact us today.
Areas We Serve In South Lanarkshire
We have undertaken work and serve the needs across South Lanarkshire including:
East Kilbride
Hamilton
Blantyre
Larkhall
Carluke
Lanark
Strathaven
Bothwell
Stonehouse
Uddingston
Other Services Abbey Gates Offers in South Lanarkshire:
Contact us
To get in touch about our services, or if you have any other related questions, please call us:
By Telephone:
01294 835294 or
 07799 895814
By Email:
info@abbeygates.co.uk