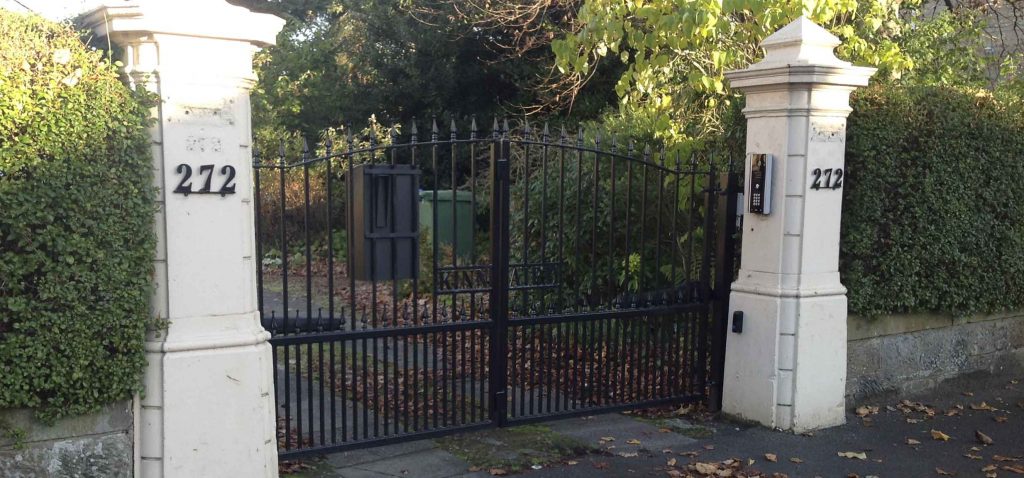 We serve Glasgow, Lanarkshire, Ayrshire, Renfrewshire and Inverclyde.
Having driveway gates installed in your home or commercial property is one of the best ways to secure and style your home or commercial premises.
All our driveway gates are made with wrought iron to ensure lasting quality.  Wrought iron is so strong and durable that it has been used for centuries for crafting secure entrances and weapons.
How do I get my new driveway gates?
Abbey Gates is based in Glasgow, contact us today by phone, email or using our contact form.  We will answer any questions you have and arrange a free callout at your leisure to size your double driveway gate & show you our catalogue.   After one of our team members has made the necessary measurements, all you need to do is tell us the design you want, and the colour and size of your metal driveway gates and we will produce a quote for your new driveway gate.  Even if you are just curious about the rough cost of entrance gates, just give us a call, and we can give you an estimate.
Call us now on 01294 835294 to get a free callout estimate and measuring service.
What are the benefits of having a wrought iron driveway gate?
There are many benefits to having wrought iron driveway gates, such as:
Heightened security
Controlled access with an interlocking system
No trespassers – In Scotland there are no laws against trespassing, but you can discourage them with a gate
No arbitrary sales visits
Increases the value of property
Bespoke design manufacture
Gives a great first impression to your visitors
Easy sliding or swinging motion
Increased privacy, especially with one of our metal screened gates
No unwanted cars parking or turning in your drive
Keeps the kids and pets safely behind the gates
The look of a driveway gate can give the impression of a house that uses the best security
View our driveway gates gallery
What materials do we use?
Abbey Gates uses only the best materials and craftsmanship when making our wrought iron driveway gates to ensure they are durable, stylish and work for their best purpose, security.  We use 'wrought iron', which is an iron alloy with very low carbon content.  It is very strong, yet malleable, that is why it is used in some of the best structures in the world, including the Eiffel Tower.
Should I get a sliding or a swinging driveway gate?
Sliding gates need a track and roller fitted, whereas a swinging gate uses hinges to operate. A property that needs a sliding gate will be one that doesn't have enough room for a gate to swing inwards to open, but a property with enough room can have a swinging driveway gate installed.  Don't worry though, with either a rough estimate of your gate size given over the phone or with a free callout to your home, we can determine if your home needs an iron swinging or sliding driveway gate.
What style of gate should I get?
Wrought iron security gates come in all shapes, sizes and colours, and by just looking at your home's specific style, you can determine what kind of gate will suit your driveway.  If you have a modern house, you may want a simplistic, sleek style that compliments your home's state-of-the-art style by using straight lines and contemporary shapes.  For a historic style house, we would recommend a grand, ornate look with spires, finials and swirls painted black with perhaps gold or silver decor attached. For more information on driveway gate styles, please see our gallery and our article (with pictures) on wrought iron gate styles.

What do we do to make your driveway gate?
We firstly make a plan of the area using the measurements we obtained at the callout. We design the driveway gate, manufacture it in our workshop and then paint it with whatever colour and finish you want.  We will then install it after levelling the ground to allow the gate to swing freely, and then we dig the holes for the metal posts and insert them securely in the ground.
How will my gate be protected from weathering?
Your wrought iron driveway gate can be protected from weathering & accidental damage by galvanizing the metal surface. Galvanizing is the process in which wrought iron or steel is placed in a thin layer of zinc at a temperature of 460°C. In this atmosphere, the zinc reacts with the oxygen to form 'zinc oxide'. After this, another reaction occurs with 'carbon dioxide' to form, zinc carbonate.
The Galvanizing Process
Why should my gate be galvanized?
Wrought iron driveway gates can be completely protected from the elements with the use of galvanizing. Corrosion can occur from harsh weather, freezing and thawing throughout the winter months and acidic rain. If a metal gate is corroded, further rusting can only occur as well as accidental damage.
Why Abbey Gates?
Quality craftsmanship, excellent pricing, guaranteed parts and labour, local company and quick, efficient installation with no mess or fuss. Guaranteed!
How much do metal driveway gates cost?
Gate prices can vary due to the material used, the design process, the size, the quality and the installation of the gate.
Call us now on 01294 835294 to get a free callout estimate and measuring service.  We serve all areas surrounding Glasgow, Lanarkshire, Ayrshire, Inverclyde and Renfrewshire. 
View our Railings & Fences