Abbey Gates can easily provide sliding gates for driveways without enough room for a swinging gate. When there is not enough room for the gate to swing inwards to open, there is not enough room for a swinging gate and a sliding gate can be installed on a track with rollers.

Don't worry though, with either a rough estimate of your gate size given over the phone or with a free call-out to your home, we can determine if your home needs a iron swinging or sliding driveway gate.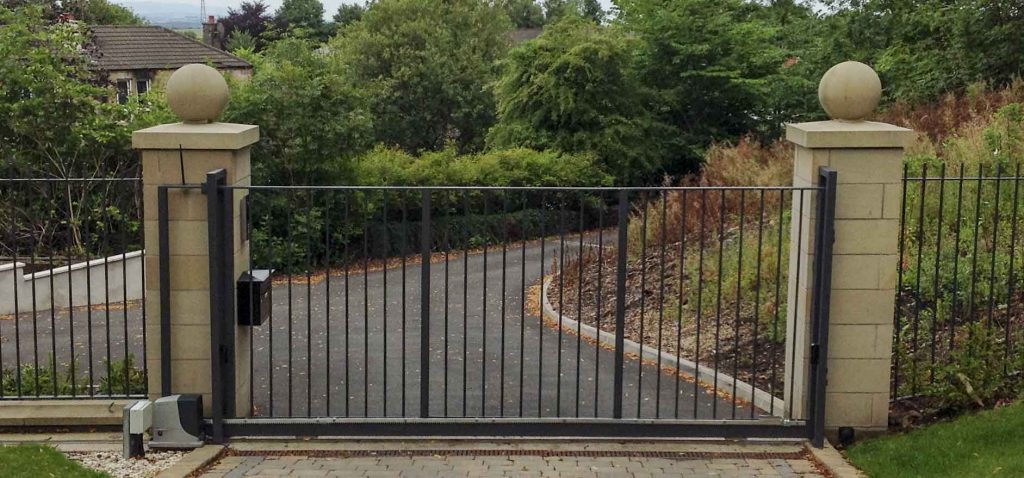 Sliding Gate

Is only suitable if there is room for the gate to slide into. The gate may slide to the left or right depending on the space available. The space required is the width of the gateway + 30cm.

Bi-Parting Sliding Gates

If there isn't enough space on either side a Bi-parting sliding gate may work as this requires only half the width of the gateway + 30cm on each side and meets in the middle. Bi-Parting gates can have one side wider than the other if needed to make them fit.

Situations, where a Sliding Gate could be chosen over a Swing Gate, are:
The driveway slopes up from the road and the gate is on the front boundary.
The driveway length is limited and you wish to park a car close to the gate and still be able to open it.
You want a fully clad gate for privacy but your property is prone to strong winds.
The gateway is wider than normal ie. 6 metres.
For more information on sliding gates, call us on 01294 835294.
Automatic Sliding Gates
Abbey Gates only use the quality, reliable and reputable gate automation equipment on our bespoke gates and we have been installing automation equipment for over 30 years.
Our automation surveyors and engineers are always on hand to give you the system that best suits your needs.