Electric Driveway Gates, Railings & Fencing North Lanarkshire
Ideal for security, privacy and convenience, we can install, manufacture and design electric gates in homes and commercial properties across North Lanarkshire.
Abbey Gates provides automatic gate solutions to private homes and industrial, commercial and public properties. Our expert designers will work with you to provide the ideal automatic gate for you and your property.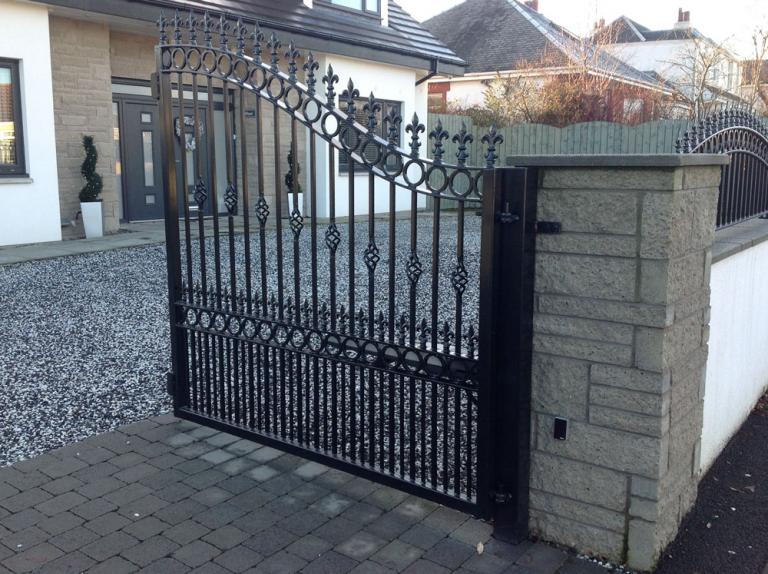 Electric Gate Services Available in North Lanarkshire
We offer everything from repairs to a fully comprehensive design, build and installation service.
If you want a new electric gate installed, our designer will come to the property and measure the gate. They will also show you options for your electric gate, and you can choose a design or create your own with their help.
Our experienced blacksmiths and welders will make your design in our workshop. Once it is complete, our team will come to the property and install the gate. The electrician will wire the gate, intercoms and sensors.
Our team can also automate existing gates if needed. This involves installing arms and intercoms and ensuring power to existing manual gates.
A Local Electric Gate Installer
Our company has served the North Lanarkshire area for over two decades from our workshop in Glasgow. It is useful to have a single supplier for your gate to ensure installation and fabrication are done smoothly and to your preferences.
Which Electric Gate is Best?
There is a range of automatic gates to choose from. The best choice depends on the property and why you want an electric gate. Generally, security palisades are the best, and if privacy is what you want, composite is ideal. However, combinations of the two can provide a balance with the look you are aiming for.
The Best Electric Gates for Security
Palisade gates are the best for security. This type of gate is usually steel or iron bars with pointed decorative tops for domestic properties. Abbey Gates specialises in making protective gates that are also pleasing to the eye and enhance the appearance of your property.
The Best Electric Gates for Privacy
Palisade gates can look elegant and provide ample security, but people can see through them and into your property. With privacy becoming increasingly important to people in North Lanarkshire, we can also offer composite gates.
Composite gates are metal in structure but have wooden panels that cover the front of the gate. This means no one outside can see through and into your property. This is excellent for privacy and security by preventing thieves from seeing your home, windows or doors.
Composite gates can also be topped with palisade points for additional security. As the metal used is aluminium, the gates are also lighter, making them easier to automate and more economical to run.
The Best Electric Gates for Space Saving
More conventional swing gates are what most people have in mind with electric gates. However, these are not always possible. Some driveways have limited space, a slope, or open onto a public highway.
Folding electric gates are ideal if you do not have space available to the side of an electric gate. In these cases, a sliding or bifold gate is a great alternative and looks elegant and smooth when opening. Bifold gates fold into two parts and stay tucked away until closing.
Commercial Electric Gates in North Lanarkshire
Industrial electric gates are more focused on security and often need larger gates with additional railings. Keeping your yard or property secure is a priority, ensuring your goods and building are safe.
We offer ID-card-operated electric gates with video and voice intercoms for commercial properties. Palisade electric gates with fencing with anti-climb paint are typical, although composite gates with palisade tops also provide privacy.
Why Choose Local Electric Gate Company in North Lanarkshire
From our Glasgow workshop, we can provide a full-service installation of your electric gate. The initial consultation will be with one of our engineers, who will measure and design the gate alongside you.
Once you are happy with the design and materials, our workshop will make your gate to order. The team will then fit it, and our electrician will wire an intercom and automation and provide your preferred form of access (key fob, ID card).
We can also automate, repair and refurbish existing gates. This includes installing an arm, sensors and an intercom to a manual gate. Automation of existing gates will require an electrician and power to the gate.
This service will save you time and money and allow you to keep historic and personalised gates with the added convenience of automation.
Areas We Serve In North Lanarkshire
We have undertaken work across North Lanarkshire including the following locations:
Cumbernauld
Coatbridge
Airdrie
Motherwell
Wishaw
Bellshill
Kilsyth
Shotts
Chapelhall
Moodiesburn
Newmains
Stepps
Other Services Abbey Gates Offers in East Dunbartonshire:
Contact us
To get in touch about our services, or if you have any other related questions, please call us:
By Telephone:
01294 835294 or
 07799 895814
By Email:
info@abbeygates.co.uk