Electric Gates in Bishopbriggs
For those in Bishopbriggs looking for electric gates, Abbey Gates is local and offers a comprehensive service from start to finish. We have the skills and knowledge to assess and quote, design, install and maintain automatic gates to your house just as you want them.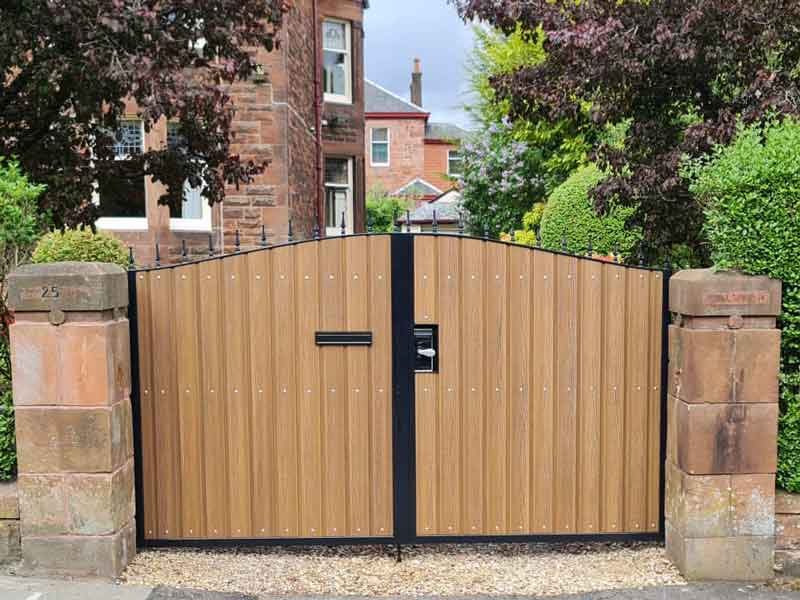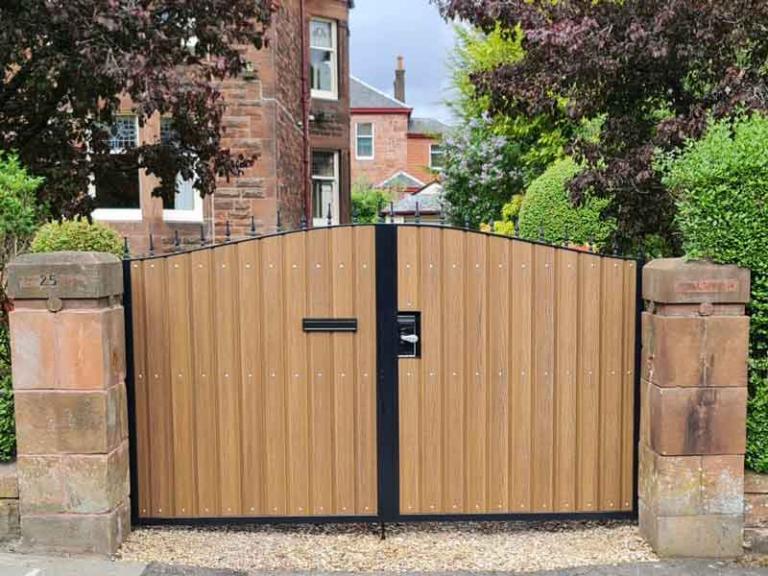 Why Choose Electric Gates?
It is becoming increasingly customary to have domestic electric gates fitted in your area and all over Scotland. It is not hard to see why, as they can be invaluable for heightening security and privacy.
By fitting a domestic system, your gate can remain closed most of the time to keep out intruders. They work through a key fob or intercom, which can be activated by various means. You could gain entry through a code, video screen, or voice call, and they come in many different styles.
What Electric Gate is Best?
Abbeys Gates specialist engineers will come to your home to gauge the size of your driveway and collaborate with customers to design their gates.
When selecting the right electric gate for their driveway, there is a vast array to pick from. For instance, with its metal bars forged from iron or steel, which can be powder coated or painted, Palisade gates are a popular option.
A substantial number also opt for composite gates, made from a blend of wood panels and metal, mostly aluminium. A powerful combination prevents people from looking through the gate. Engineers will also fit corresponding railings with our electric gates, increasing privacy, safety, and security.
If you are living in Bishopbriggs and looking to add a secure, eye-catching addition to the exterior of your house, there are several options. You could put up a garden gate forged from composite or palisade, while it is becoming commonplace for people to fit a scroll gate with a curled type design and a smooth top.
They come in a selection of metals, depending on their use and how much you wish to spend. You can give your gates a lick of paint or powder coated, subject to your taste.

Commercial Electric Gates Bishopbriggs
We excel in providing electric gates for customers' homes, but also have commercial applications. They are ideal for safeguarding offices, factories or stores, and numerous other properties, protecting goods and workers, and ensuring their privacy.
Our excellent staff have the expertise to fit the finest quality composite or palisade gates, which come in various looks and designs and will be perfect for your commercial property.
If you envisioned a classical style, you could select the most durable composite gates, boasting palisade tops and palisade gates fashioned from iron or steel.
Our expertise is electric gates, in protecting and securing premises and industrial yards by installing your barriers and gates with paint with anti-climb properties, for example. Also, we provide palisade fencing with electric gates to keep your workplace secure.
Intercoms for Electric Gates
Abbey Gates keeps up to date with the most recent advances in security, where we can fit your commercial building with the latest intercom, where people can enter using an ID card.
We also offer customers an incredible range of swing or sliding gates, which is just the thing for those with a driveway on a slope or opens out to a busy main road or highway.
Folding and Sliding Gates
They can purchase an exceptional sliding gate, especially a bifold gate, which can be folded up, making it applicable for those who may be concerned they could not fit a security gate due to the layout of their driveway.
Custom-Made Electric Gates
Overall, if you are considering having an electric gate installation in the town of Bishopbriggs in East Dunbartonshire, then Abbey Gates will oversee every aspect; from beginning to end. Our experienced team will measure, design, and build the gate, adhering to your requirements.
If you are in Bishopbriggs and are looking for a reliable installation, we are local and install electric gates throughout the area. Abbey Gates can design and construct your gate and set up the intercom. Our engineers will confer with you on every step as they install your electric gate.
At the same time, electricians on staff will consult with customers to set up the power source, providing energy to both the intercom and your gates.
In the end, Abbey Gates will not rest until they have provided the electric gates you always wanted at a price you can afford.
On top of providing privacy and security, by fitting safety railings and providing ramp access, you can also adorn your home or commercial property with stunning garden furniture and sculptures fashioned from metal, alongside other features.
If you would like an overview of the amazing offers we provide and how we make your property secure and private, contact Abbey Gates. You will not be disappointed.
Why Choose Abbeygates in Bishopbriggs?
We are a trusted, Glasgow-based company
We offer free consultation visits to your home to give you advice and quotes
We carefully design a range of different driveway gates to suit your specifications
Our experienced and highly qualified team have over 35 years of experience in manufacturing and installing metal swinging and sliding driveway gates
We specialise in driveway gate automation systems which can be added to your new or existing gate
We can help you create your bespoke designs and have a large catalogue of driveway gate designs to choose from
We offer a galvanizing service to give a high-quality, lasting finish that ensures your driveway gates are not prone to weathering
We do not deal with subcontractors as all our work is done only by our team
Our gates come with a 3-year guarantee
Areas We Serve In East Dunbartonshire
We have undertaken work across East Dunbartonshire including the following locations:
Other Services Abbey Gates Offers in East Dunbartonshire:
Contact us
To get in touch about our services, or if you have any other related questions, please call us:
By Telephone:
01294 835294 or
 07799 895814
By Email:
info@abbeygates.co.uk