If you're looking for electric driveway gates in Kirkintilloch, we provide a fully comprehensive fitting and design service. Our automatic gates strengthen security and privacy in your home or business.
Driveway Gates & Fencing In Kirkintilloch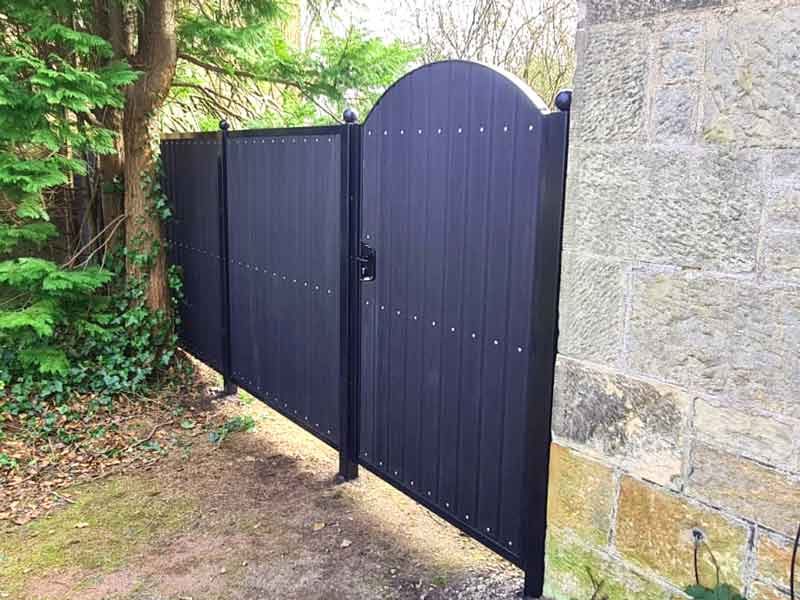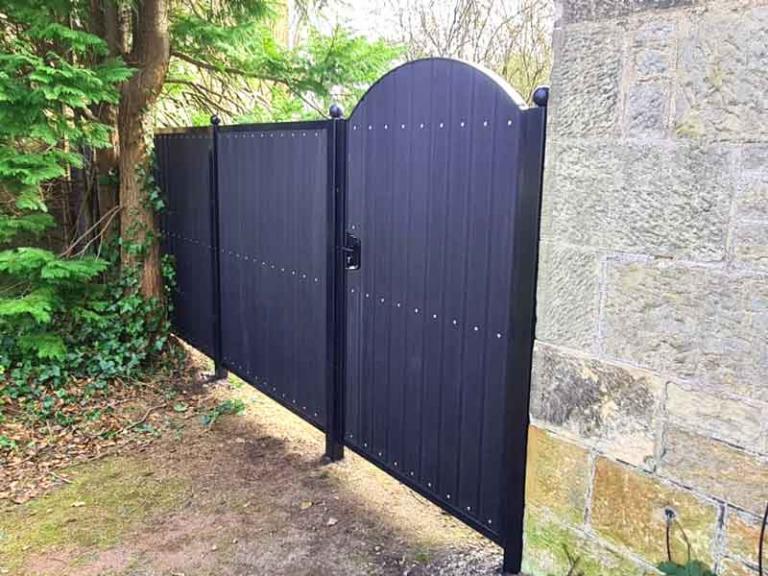 We will send specialist staff from our workshop in Glasgow, who will cover every stage of the installation. From measuring your made-to-order gates to designing them, constructing them, and fitting them according to your needs.
Wherever you look in Kirkintilloch and around Scotland, you will see more and more houses with domestic electric gates. They are becoming essential for keeping your property private and secure. They are activated by the most up-to-date key fob or intercom, which generally works via a video, code, or voice with numerous units on offer.
When preparing to install your driveway, our excellent electric gate engineers will measure it out carefully and confer closely with our customers to design their gate exactly as they imagined it.
Types of Electric Gates
Those searching for the best electric driveway gates in Kirkintilloch have a vast array available. The finest Palisade gates boast metal bars consisting of steel or iron, powder coated and painted, and pointed tops for additional security and privacy.
What's more, we supply excellent Composite gates which, as the name suggests, are made up of a grouping of wood panels and metal, such as aluminium.
You can also choose railings to match, which come with our standard electric gates. They not only give the outside of your building an attractive finish but makes it exceedingly private and secure, which can be a great comfort at little cost.
There's no denying that when people come to your home, the first thing they notice is the gates. They can be a striking image, but if you come to Abbey Gates, you can find garden gates which are not just functional but decorative as well.
They are often constructed from composite or palisade, while many select a scroll electric gate with a curled styling and smooth top. They can be painted or powder coated and come in a broad range of metals, varying on how much you have in your budget and the reason they are being installed.
As well as sprucing up the outside of the house and your neighbourhood Abbey Gates in Kirkintilloch can also enhance the inside with sculptures made of metal, and the backyard, with metal garden furniture.

Railings & Fencing Kirkintilloch
We also offer a comprehensive service where we design, manufacture and install fences, railings, safety railings and boundary structures as well as ramps providing easy access. These are amongst the many exceptional protective, security and privacy features Abbey Gates can efficiently fit into your stipulations.
Commercial Electric Gates
However, our skills are not just restricted to customers' residences but extend to keeping their business properties private and secure. We break new ground in commercial electric gates, which are imperative for protecting goods and work staff. This is achieved by installing the most impressive composite or palisade gates in various styles and designs.
If you are looking for a renowned, classic appearance, many people in Kirkintilloch opt for iron or steel palisade gates or composite gates with palisade tops.
Abbey Gates is also well known for caring for secure premises, factories, offices, or industrial yards, by employing reliable electric gates and palisade fencing with anti-climb paint. This is as well as utilizing the latest intercom systems which can be accessed with ID cards, using the latest security measures.
Sliding and Folding Gates East Dunbartonshire
There are numerous types of security gates, which may be dependent on the driveway. Some consider they may not apply to those living with a sloping driveway or one that comes out to a public road, but we have the solution. You could try a sliding gate, which can be folded and placed to one side, which can perfectly serve your purposes.
If you are situated in Kirkintilloch, and thinking of installing security gates, then you can use the ideal supplier right on your doorway. Abbey Gates, and its exceptional team of engineers, will expertly handle the job.
From taking the initial measurements to designing and building the gates and fitting them.
They will ensure the intercom is installed and both are powered up. All the while collaborating closely with you to provide exactly what you asked for. That is always of paramount importance to Abbey gates, making us the name you can trust for installing security gates in Scotland.
Why Choose Abbeygates in Kirkintilloch?
We are a trusted, Glasgow-based company
We offer free consultation visits to your home to give you advice and quotes
We carefully design a range of different driveway gates to suit your specifications
Our experienced and highly qualified team have over 35 years of experience in manufacturing and installing metal swinging and sliding driveway gates
We specialise in driveway gate automation systems which can be added to your new or existing gate
We can help you create your bespoke designs and have a large catalogue of driveway gate designs to choose from
We offer a galvanizing service to give a high-quality, lasting finish that ensures your driveway gates are not prone to weathering
We do not deal with subcontractors as all our work is done only by our team
Our gates come with a 3-year guarantee
Areas We Serve In East Dunbartonshire
We have undertaken work across East Dunbartonshire including the following locations:
Other Services Abbey Gates Offers in East Dunbartonshire:
Contact us
To get in touch about our services, or if you have any other related questions, please call us:
By Telephone:
01294 835294 or
 07799 895814
By Email:
info@abbeygates.co.uk