Driveway Gates, Railings & Fencing Lennoxtown
Our team can fit, design and automate electric gates throughout Lennoxtown. Everything we do in designing, building, and installing gates for your driveway or commercial property is done by us. We are a complete service.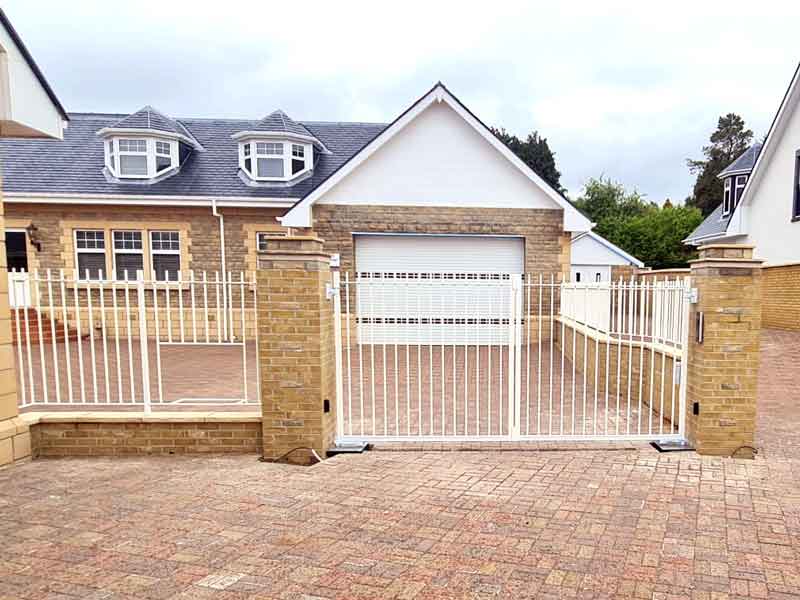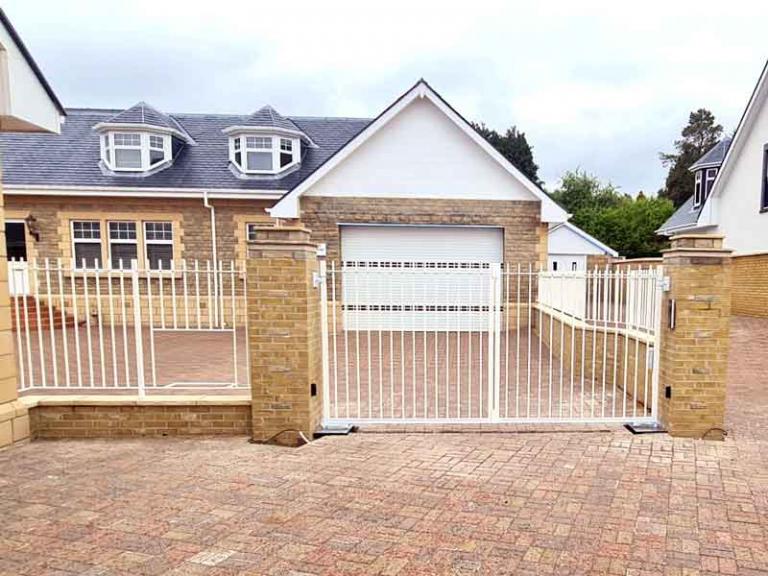 Working out of our exemplary workshop in Glasgow, our engineers can measure and construct your custom-made electric gates, ideally suited to your property.
In Lennoxtown many opt for driveway electric gates, as they allow you to keep your gates shut and secure for extended periods. This makes your house secure and increases privacy.
Electric Gates & Intercoms
Abbey Gates's state-of-the-art security system uses key fobs and an intercom, which can be operated through codes, videos, and voice activation. These can be purchased in different styles, using numerous units.
Custom Electric Gates
When installing an electric gate, our highly skilled team will visit and talk with you about how they want their gate. They will then examine the driveway, take the appropriate measurements, and set out how to design the electric gate.
Types of Electric Gates
If you settle on the right electric driveway gate in Lennoxtown, numerous alternatives are open to you. They come in several styles, such as Palisade gates, featuring pointed tops and bars made of metal, such as iron or steel, which customers could have painted, or powder coated.
You can also choose composite gates, which employ a mixture of wooden panels and metal, generally aluminium. The panels prevent people from gazing through the panels, making your home private and secure. This is heightened by the inclusion of safety railings, which come with our gates, for an attractive finish.
Electric Garden Gates
We pride ourselves on providing customers with the greatest garden gates on the market. They may be famous for being decorative, but they are fashioned from composite or palisade to heighten security and privacy. However, in most cases, people tend to fit a scroll gate with a smooth top and curled stylings. It can be made from a broad spectrum of metals and can be painted or powder coated, based on your personal preferences.
Additional Security to Electric Gates
You can be assured, alongside enhancing security and privacy, Abbey Gates provides other services to make your home safer and aesthetically pleasing. These range from supplying artworks and sculptures to garden furniture made of metal. This includes fitting safety railings and structures and putting in ramp access to prevent accidents and increase mobility, which can be essential.
Commercial Electric Gates
Abbey Gates is also practised at putting up commercial gates in workplaces or places of business to increase privacy and security and to watch over your employees, goods, and products.
Our highly trained engineers are proficient in fitting composite or palisade gates which come in various designs and can give your property different looks.
If you are looking for a timeless, classical appearance, try striking palisade gates constructed from iron or steel or composite gates capped off with palisade tops.
Our specialised engineers are knowledgeable about safeguarding factories, industrial yards, or highly secured areas by installing palisade fencing with electric gates coated with anti-climb paint to protect your property.
This is alongside modern intercom systems, where your location may only be accessed through ID cards for additional security.
If you have a sloping driveway outside your house, or it opens out to a main public road, you could install a swing or sliding gate, particularly if it is a bifold gate which can be folded or put to one side.
Why Choose Abbey Gates?
We are Scottish experts in designing, making and installing electric gates and intercom systems in Lennoxtown. We will send our team of engineers and craftsmen who will consult with you until you are completely happy. It is all part of the service you can expect from Abbey Gates, which is the name to trust when installing electric gates.
Areas We Serve In East Dunbartonshire
We have undertaken work across East Dunbartonshire including the following locations:
Other Services Abbey Gates Offers in East Dunbartonshire:
Contact us
To get in touch about our services, or if you have any other related questions, please call us:
By Telephone:
01294 835294 or
 07799 895814
By Email:
info@abbeygates.co.uk