Commercial & Industrial Gates & Fencing Glasgow
We supply, design and manufacture electric gates for industrial and commercial premises throughout Glasgow and the greater Glasgow area. Our local workshop and manufacturing factory can create and customise electric gates and railings to fit your company's needs.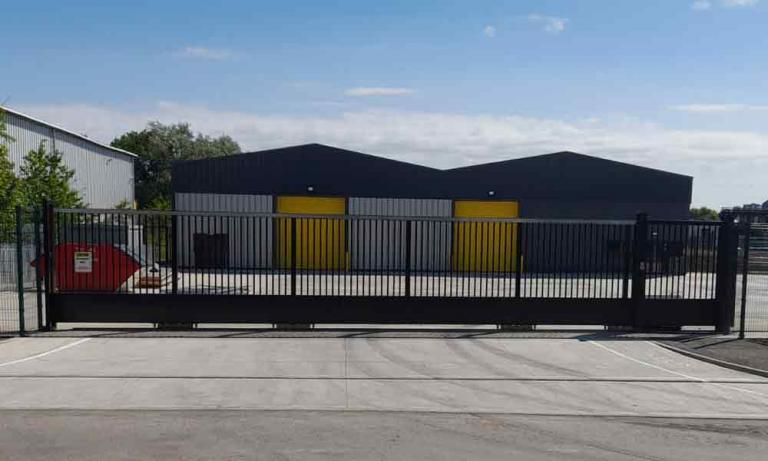 Security Gates for Business Properties
With over thirty year's experience, our team can offer you a consultation for security on your site. We can share suggestions or designs based on our property survey and location.
We provide commercial electric gates for companies starting from scratch, upgrading or replacing current security gates.
Which Electric Security Gates are Best for Commercial Properties?
The best type of electric gate depends on your priorities. Some businesses may be concerned about public access to their business, but others may want to be more restrictive.
Aesthetics are important too. Some electric gates are designed to make a business look distinguished, but others prefer to look secure to deter thieves. You may even want to block your property or inventory from view completely. We have electric gates to do all of these.
Industrial Security Gates & Fencing
Palisade electric gates are the highest standard style for security. They come in a variety of looks and styles. Palisade gates can be made simply from steel and pointed tops. They can be powder coated for a sleek look or painted in anti-climb paint to provide added security.
Basic palisade gates may be familiar in high-security facilities such as warehouses, prisons and industrial yards.
For some businesses, it is important to look distinguished while maintaining high-security gates. Palisade gates are versatile and can be made traditionally using steel or iron with decorative styling.
These are the kind of gates you might see on secured historic properties. They have the same sharp tops to prevent break-ins, but they are done in an arrow style to look more decorative.
Privacy With Automatic Gates
Privacy and Security go hand in hand for businesses. If people outside cannot see your property, it is less inviting and keeps any valuables from being seen.
Composite gates are very popular for businesses that want privacy from their electric gates. They are made of a composition of wood and metal.
This means they are strong but light and block anyone from seeing through your gate with wooden front panels. Our team can top your composite electric gates with palisade metal points if you need additional security.
Access Control With High-Security Gates
Many businesses depend on controlling access to certain areas of their commercial property. Some examples include hospitals and schools with restricted areas. Also, private or historic buildings and gardens may have a mixture of public and private, paid or free areas.
These do not usually require high security. Scroll electric gates are common for simple access control. They are highly decorative and can include a range of artistic styles and concepts.
Are Electric Gates Better than Manual?
One of the biggest issues businesses have with gates is the number of employees, vehicles and customers entering and exiting. Manual gates are cumbersome and must be light enough to be opened by a single person.
As a result, these gates are often left open throughout working hours or even left unsecured permanently.
Where parking is an issue, a closed gate can prevent unwanted use of your property and parking areas. On the other hand, electric gates are closed by default when you want them to be. Not only does this prevent anyone from entering your property with bad intentions, but it keeps the general public out of harm's way.
Electric Gate Intercoms for Commercial Use
We know your business is unique, and what you need from an electric gate is too. We offer not only custom-made gates but a range of intercoms to suit every business.
Intercoms are a must-have for electric gates in commercial properties. Being able to speak to, see on video and grant access easily is vital. Our consultant will visit your property and discuss your needs. There are several things to think about:
Do you need ID cards for employees?
What is the range of access, vehicles, pedestrians, and trucks?
Do you want video to confirm the ID for people and vehicles?
Is exiting also restricted, or do you want a sensor that allows vehicles to leave but restricts entrance?
Even a small issue, such as truck drivers struggling to reach an intercom, can be a big problem. Our team are experts in all areas of electric gate and railing security and can walk you through the process. They will assess exactly what they believe you need to keep your site running smoothly and safely.
Types of Commercial & Industrial Electric Gates
Electric gates are extremely versatile, and we can provide a variety of opening mechanisms. The space and shape of your property entrance can be a concern, but there are several elegant solutions to these issues.
Security Sliding Gates
Sliding gates are a very popular choice for commercial and industrial properties. Larger vehicles demand a bigger electric gate.
Space for these gates to move inwards can limit your working area. A sliding electric gate eliminates this problem by going to the side and can be made in conjunction with railings.
If space at the side is an issue, you may consider a folding electric gate instead. They are usually bifold and tuck away using half the space of a sliding gate.
Extra Security for Commercial Electric Gates
Securing your property and inventory and ensuring the safety of your staff and customers is an important responsibility for any business. Electric gates provide a high and consistent level of protection, but other extras are available if you need them.
We can also install barbed wire, rotor spikes, alarms, access reader posts and override keys and switches for your electric gates on request. Our surveyor can assess your property and business if you are unsure about what you need.