Automatic Gates Glasgow
Abbey Gates in Glasgow installs automatic gates that range from simple door entry systems to more complex systems that are secure, reliable and convenient.  We can also supply and install automation for existing gates that can be tailored to meet all your needs.
Are you thinking of having an electric gate installed?
If so, Abbey gates can provide you with the information that will help you understand all the options available with electric gates and automatic entrance control systems that could be installed at your home.
Why do homeowners have electric gates?
Security
Convenience
Safety & Comfort
Resale Value
Automatic gate security
More homeowners are looking to increase the security of their property to stop the opportunist, the salesperson, the car thief and the vandal.  Automatic and electrically controlled security gates, in conjunction with a video or audio intercom, can enable homeowners to provide a secure perimeter and control who has access to the entrance of their property from the safety of the home.
The convenience of automatic gates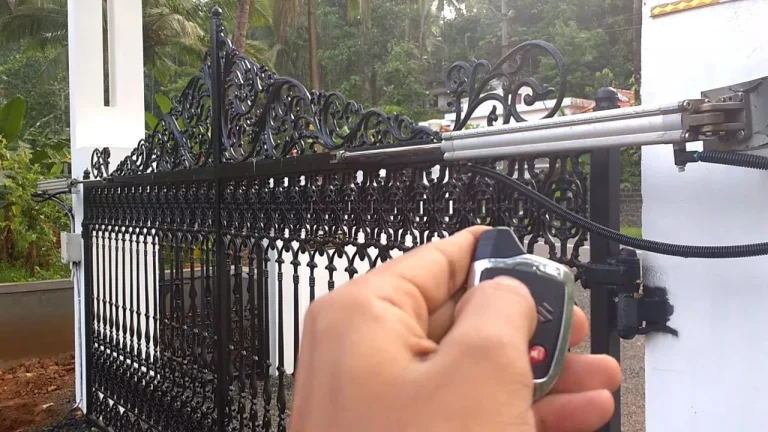 Thousands of properties have gates installed but leave them permanently open. The problem is that an open gate is pointless as a gate.  It is inconvenient having to open and close gates manually, considering how often we go in and out of our homes each day.  Automatic gates can provide the security that people are looking for.  No matter what the weather is like, with an automatic gate, the press of a button on your remote control device from the inside of your car or from inside your house means the automatic gate will open and shut safely behind.
Safety of electric gates
Homeowners are obviously concerned about the safety and welfare of their children and pets and how to prevent them from wandering out onto busy streets.  An electric gate system provides a security boundary and ensures that even when people or cars enter the property, the gates will automatically close and provide a safe and secure environment for both children and family pets.
Increasing your property value with electric gates
Having an entrance system will increase the property value of your house and make it stand out from the crowd.  Anyone who comes to your home will immediately form an opinion about your property. You can significantly enrich the appeal of your house with an automatic gated entrance. Thanks to its eye-catching, commanding nature, an automatic gate becomes the first thing new visitors see. When chosen to complement your home's architecture and overall property design, it can also be a wonderful finishing touch to your exterior appeal.
Call now for a free quotation on 01294 835294
 
Benefits of Having an Automatic Gate