What are automatic gates?

Automatic gates are made to increase convenience and heighten privacy and security for your property. Automatic, or electric gates, have a built in mechanism that operates from either a push of a button from a gate remote or from a metallic surface being sensed by an eye which is placed on the inside of your property.
How does an automatic gate work?

There are two types of systems that can be installed in order to automate a gate, these are:
Electromechanical systems
The power to operate an electromechanical opener comes from your main electricity supply.
Hydraulic systems
Hydraulic systems are given this name as they use hydraulic fluids to operate the opening process of the gate.
They are very powerful and are usually used for large heavy gates
How do I open my automatic gate?

Automatic gates have a few ways in which they can be opened:
When the installation process is complete we will give you a automatic gate opener, or 'remote'. This is a small remote that has a button to open the gate at your will. It is a radio transmitter that sends a signal from up to 50 metres away. This is very convenient as you don't have to get out of your car to manually open and shut your gate.
A voice or video intercom system is placed outside your automatic gate. By pushing the button on the intercom box a buzzer inside your house will alert you that they are outside. The visitor can request to enter your property by speaking into the intercom. Once you are happy with the guest entering, you can press a button on the box and the gate will open for them.
Your intercom system will also have a keypad on it. This is useful if you are out and need someone to enter the property such as a gardener or cleaner for example.
We will also give you a unique key that will allow you to manually open and shut your gate in case there is a power-cut.
What is the process in installing an automatic gate?
Arrange a free call-out in order to generate a risk-assessment, measure the space, assess the groundwork needed and security needs, then generate a quote for you
Choose the design and style of the gate wither it be from our portfolio or one of your bespoke designs
Manufacture the gate in our workshop and begin ground work
Galvanise the gate to ensure it is not susceptible to accidental damage and weathering
Paint the gate with a weather proof paint that eliminates flaking and rusting
Hang the gates after cabling and ground work
Complete access controls and hand over keypad password and automatic gate remotes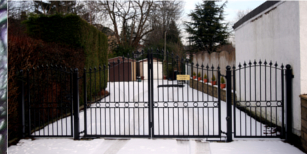 How safe are automatic gates?

The Health and Safety Executive has encouraged all installers, designers and manufacturers of electronic gates that there is new safety advice, therefore we at Abbeygates follow these guidelines
"Electronic or automatic gates are designed to stop if someone gets in the way, and installers and those maintaining these gates have a real duty to ensure this happens.They must take their responsibilities seriously to make sure that anti-crushing, shearing and trapping safety protection devices are correctly set and maintained."


HSE's Director of Field Operations
Why buy automated gates from Abbeygates:
Controlled access
Security
Increased privacy
Family and pet protection
Stop people using your driveway for parking or u-turning
Reduced risk of theft
Insurance benefits
It is an investment that increases the value of your home
Aesthetics
Convenience
How will my automatic gate be protected from damage and rust?

We always recommend galvanizing all automatic metal gates to ensure longevity and durability. Galvanizing is the process of coating iron and steel with a thin layer of zinc and passing it through a molten bath at a temperature of 460°C. When exposed to this atmosphere, the zinc reacts with oxygen to form zinc oxide, which then reacts further with carbon dioxide to form zinc carbonate. This stops corrosion by protecting the steel below from the elements which can cause rusting. We will then paint the surface with a weather proof paint to avoid flaking.
Can I automate my gate at a later date?

We can install an automatic system on almost all gates.
Will my automatic gate work in bad weather?

Electronic gates are mostly affected by extreme, strong winds, which are rare even in Scotland. Weather can affect the synchronised opening of the gate, but only if you don't have a reliable system. Even if you have a reliable system , it is still recommended that during such times of extreme weather, gates should be turned off and manually opened with your box key and closed in order to ensure your personal safety and to prevent any accidental damage to vehicles.